If you're an avid fan of metal detecting, you've probably dealt with your fair share of disappointing tools. A pinpointer, a hunting knife, headphones, perhaps a loop cover for your detector's coil—any one of these things could break, or begin to wear down, and effectively ruin the entire experience.
It will come as no surprise, to old diggers and new, that the most critical tool, the one you cannot risk going defective, is the metal detector. If your metal detector begins to slowly stop working, it can ruin many hunts for you.
Since it's the most expensive tool in your arsenal, you'll want to put off replacing it for as long as possible. The end result of that will be days full of choppy signals and growls from your detector, as well as a plethora of missed opportunities. If you want to find coins, lost jewelry, and other hidden treasures without a painful interruption like a stressfully inept detector, then consider looking into Garrett metal detectors' GTI 2500.
Garrett GTI 2500 Setting The Standard
The Garrett GTI 2500 is setting the standard for the kind of durability and reliability diggers expect. Although a high-functioning precision instrument and one of the best metal detectors on the market the 2500 can withstand years upon years of heavy use without any problems at all.
As long as it is cleaned and stored properly after each use, there are next to no limits of where you can take this surprisingly lightweight yet advanced instrument. The garrett GTI 2500 metal detector is made to last, and picking one up will determine the route your every hunt takes for years to come.
One of the most interesting features included in this model is the Digital Signal Processing (DSP) chip. This small chip allows your metal detector to tell you the details of the item that is on its radar—details you wouldn't think it was capable of.
It does more than tell you a coin is buried 6 inches underground, it tells you if that coin is a penny, dime, quarter or nickel! Such an accurate gauging system allows you to skip the trash and focus on the treasure. You can be more productive than ever before with this metal detector. Hours spent digging up aluminium cans are a thing of the past—and only garrett's GTI line is capable of such jarring accuracy.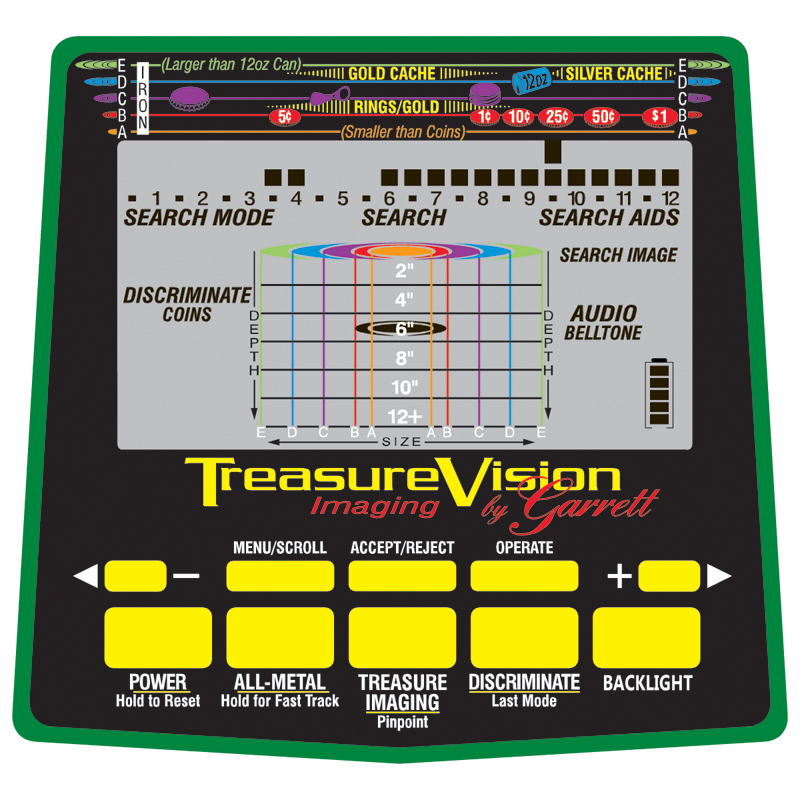 All detectors require a certain amount of setup, of course. Only the GTI 2500, however, attempts to make that setup as easy as possible, while retaining the diverse preferences that advanced diggers may desire.
If you're looking for only a certain type of treasure, perhaps one you expect to encounter in a designated area, you can let your detector know that and it will only alert you when the target you have in mind is in range.
In a similar way, if you're prepared to hunt in a particular type of terrain, use the interface to input that data to increase your detector's ability to read in such an area. Admittedly, it may take some time for you to fully understand what you're working with in regards to these settings. Attempting to master a device capable of feats like this one is supposed to take time, though. And the included instruction manual comes with a DVD that should assist you in the process of fully understanding what your metal detector is really capable of.
Complete with an adjustable audio threshold, an all metal deepseeking mode, and an adjustable frequency, the GTI 2500 is the perfect device for a treasure hunter that is more than ready to jump into the field.
Despite all of the features and settings, this advanced machine weighs less than 15 pounds, which makes it perfect for longer excursions, or carrying it into more difficult terrain that has yet to be explored by other diggers.
The device comes with walkman style noise-cancelling headphones that allow for you to take notice of even the lightest and most subtle beats and pings that the metal detector is capable of. The beautiful design is just a slight nod to how intricately the most detailed of features work together in this machine to make it a highly functional work of art.
Video Reviews Of The Garrett GTI 2500
Final Word
Hopefully, after perusing this garrett GTI 2500 review you feel you have a better understanding of the capabilities of this metal detector. It's not a toy, it's not for children, and it may not even be appropriate for a novice.
However, if you're one to take your craft seriously, or if you're newly getting into the hobby and think you'll become a long term fan this just might be the perfect metal detector for you. With lots of settings and features to explore, the GTI 2500 has potential to keep you entertained for a countless number of hours as you dig into the possibilities that it offers you.
Happy Hunting!