The Garrett ACE 350 is one heck of a machine. It's a testament to how great the engineering and design teams are at Garrett. Needless to say, the 350 has been likened to its predecessors, the Garrett ACE 150 and the Garrett ACE 250. It's also a contender to equaling and maybe even besting other brands' products, such as some entry-level Minelab machines and metal detectors by Fisher, such as the Fisher F2.
Garrett ACE 350 – Best for Sophomore Users
The main target demographics for the ACE 350 are mid-level enthusiasts with a decent amount of metal detecting experience. It holds a niche in that it lies in the middle of affordability and functionality. The price of the ACE 350, when you compare it to the 150 and the 250, is a bit steep, so most entry level players in the treasure hunting game might not be ready to jump into the fray with the ACE 350 as their first purchase.
However, the 350's price is more than reasonable enough for those who have bought a cheaper entry-level and are looking for an upgrade but aren't ready for a full-blown top-of-the-line machine with all the bells and whistles. For those with more experience and more green to spare, the Garret AT Pro would be ideal, but the ACE 350 is a good middle ground between beginner and expert, as well as cheap and pricey. As such, the Garrett ACE 350 is best described as an ideal sophomore machine.
The main difference between the Garrett ACE 350 and Garrett ACE 250 aside from the price is the DD search coil. With that, the ACE 350 has a distinct advantage over the 250 in terms of raw detection prowess. The frequency range given by the double D coil makes the 350 better at locating gold nuggets than its predecessor.
Garrett ACE 350 Appearance and Hardware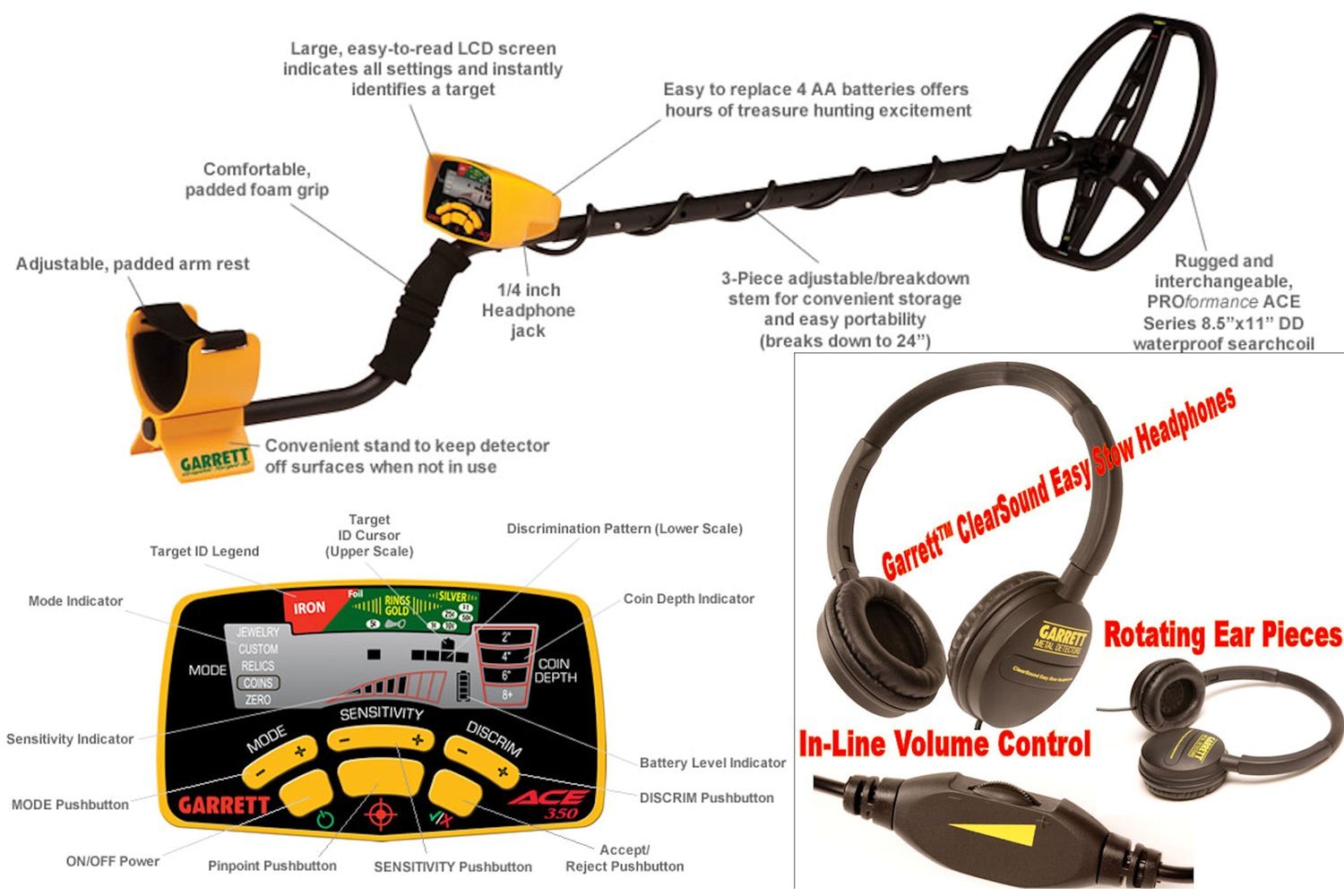 The hardware and aesthetic design of the Garrett ACE 350 has only very few subtle differences from the 150 and the 250. Garrett left its trademark and crowd-favorite yellow on black color scheme with this addition to the series, a choice many fans are pleased with.
It features an LCD that has caters to the machine's more prominent roles as gold detector and iron detector. At first glance, its screen will look similar to the ACE 250's, but closer inspection will reveal that its iron and gold indication areas are larger. This is to accommodate the DD coil's higher range of frequency and more efficient targeting system.
The indication screen of the machine includes coin depth indication, sensitivity indication, a target ID, detection mode settings, and a battery level gauge.
You can find the Garrett ACE 350 being sold at a reasonable $300 with most retailers. This price will net you a package that includes headphones, four AA batteries to get you started, a convenient travel bag, an instructional DVD and owner manual, as well as a warranty for two years.
Now, the ACE 350 already comes with an 8.5 inch by 11 inch DD coil, but if you find yourself wanting to try other coils for whatever reason, it's compatible with many others. These include 5-inch by 8-inch submersible coils, 9-inch by 12-inch concentric coils, and the 4.5-inch sniper search coil.
The standard issue DD coil is plenty good for most jobs, though. It's designed for both wide range and deep signal penetration.
Garrett ACE 350 Software and Features Reviews
This machine's wonders don't stop at its hardware. The Garrett ACE 350 has a ton of nifty features that make it the amazing metal detector that it is.
Its iron discrimination is whole other level as compare to that of the Garrett ACE 250's. In contrast to the 250's quite limited functionality – it has but one segment for iron discrimination – the 350 sports multiple segments for iron discrimination. This helps immensely with finding less sizable treasures such as small coins and gold nuggets.
As mentioned before, the ACE 350's frequency also got an upgrade. With the Garrett ACE 250, we have a 6.5 kHz operational frequency. Not a bad frequency in itself but will find itself wanting for a little more kick in some situations. The ACE 350, however, has been blessed with 8.25 kHz. This makes target finding a lot easier – specifically, gold hunting would be much more of a breeze with its larger detection area for gold.
Its Target ID has a graphical interface that does not much differ from the 250's. However, many consumers and critics would attest that this graphical target ID is of top-notch quality. And if Garrett ACE 250 had gotten it right, there was no point in trying to change it with the newer models.
Its graphical indicator for coin depth is also something worthy of note. Hardware-wise, it has a penetration power that goes upwards of 8 inches into the ground. Display-wise, it is a crisp, clear, and straightforward as any of the market's best metal detectors. Granted, it might be wise to set up your machine's discrimination settings beforehand, but after learning the ins and outs of the metal detector's settings, you're all set.
Additionally, it has five different search modes that are built-in and help the user with any treasure hunting needs that may arise. We have Coins, All-Metal, Relics, Jewelry, and User Customized. A good piece of advice for beginners would be to rely on the pre-set modes at first, but not to be too intimidated in using the Custom mode. Pretty soon, most user's will prefer their own personalized custom settings to the pre-programmed ones.
An easy pinpointing function is also a welcome addition to the Garrett ACE 350's arsenal of features.
Ace 350 Video Reviews
Final Word
All in all, the Garrett ACE 350 is an amazing machine and is well worth the buy. If you're taking a step forward from being a novice treasure hunter but aren't quite ready for the absolute big leagues, this is the perfect metal detector for you.