Garrett AT Pro Metal Detector
The Garrett AT Pro is described as an all terrain land and water metal detector and within this review it certainly did not disappoint.
With retailers suggesting the device is one of the best selling within their stock the team here at Metal Detector List were eager to get our hands on the at pro and put it through it's paces.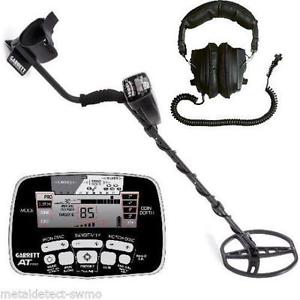 What really makes the Garrett AT Pro stand out is its amazing functionality coupled with its great affordability. At just over $500, you are honestly struggling to find another device that can go up to 10 feet underwater and has the ability to discriminate small iron objects like nails and bottle caps like the pro metal detector can.
Garrett has mostly been known for making amazing entry-level machines, I'm sure many of you reading this are owners of a device from the popular ACE series, which you have had tremendous success and enjoyment from. We spoke before testing the device ourselves with several hunters who had made the upgrade, with one stating he had dug $105 in just a single month, compared with the $150 which had taken 2 years with the Ace 250!
AT Pro Specifications:
| | |
| --- | --- |
| Dimensions: | 22 x 11 x 5 inches |
| Weight: | 5 pounds |
| Waterproof: | Up to 10 foot depth |
| Users manual: | Yes & instructional DVD |
| Search Modes: | 6 total (3 standard, 3 pro) |
| Coil: | 8.5″ x 11″ PROformance DD submersible search coil |
| Power source: | 4 x AA batteries |
| Pinpointing: | Electronic |
| Depth Adjustments: | 8 |
| Headphones: | Garrett MS-2 headphones (waterproof headphones sold separately) |
| Headphones: | Warranty: 2 year (limited parts/labor) |
Our Rating
The Good
Versatile – good land and water hunting capabilities
Batteries seem to last forever
The standard headphones are of excellent quality, adjustable volume control option available
It has proven success
Brilliant river metal detector
Iron audio is of the highest standard
Excellent discrimination of trash
The standard coil is good and excellent compared with those on other devices
It's durable and built to last
The Not So Good
Pinpointing with a large DD coil takes some practice, newbies may find they need to dig larger holes and spend more time searching
It's not easy to set up, even for the more experienced
Headphone/coil connector is not the best
No back-light on the screen
Garrett AT Pro Metal Detector Design and Hardware Review
A sleek black finish can be seen on the AT Pro, a design choice that deviates from the usual yellow and black you will find on other Garrett detectors. Ergonomically, it provides supported comfortable carry supports, an adjustable machine arm length (varying the machine's length from 42 inches to 51 inches), and is amazingly light at a mere 3 lbs (1.4 Kg). All these design considerations make the Garrett AT Pro a joy to lug around during long hunting sessions as the good design makes fatigue less of a worry.
The AT Pro's visual interface is also quite good. It's easy and straight-forward to read and utilize, with an intuitive display design that shows all the most common readouts of the machine outright – no need to go through complicated menu screens to find the exact readout that you need. As previously mentioned if you intend to hunt after sunlight hours there is no backlight for the screen display, which is a serious oversight by Garrett in our humble opinion and something which should be addressed.
It comes with a more than adequate coil – the standard 8.5-inch by 11-inch double D submersible search coils provided by Garrett. These are undoubtedly one of the best search coils out there. Obviously if you find this isn't to your taste it can be swapped out with your preferred option.
AT Pro For Sale – Price and Purchase
The Garrett AT Pro is reasonably priced and falls well within the mid level range of detectors. There are its entry-level cousins in the form of the Garrett ACE 150, 250, and 350, whose quality and pricing are top-notch but are geared towards newbies and kids. On the opposite side of the spectrum, we have the military and professional grade metal detectors such as the Garrett ATX, which will set you back a few thousand dollars.
In contrast, the Garrett AT Pro's price, averaging at upwards of $550, is a bit more steep than the entry level price tags, but unquestionably more affordable than the professional-grade ones. It's also worth noting that other metal detectors with the same features as the Garrett AT Pro are much more expensive than $550. So, in a lot of ways, the AT Pro is an amazing bargain.
Now, with all these parts and their bells and whistles, Garrett offers a reasonably two year warranty for the AT Pro – another indicator of how much the company trusts its design and engineering.
At Pro Video Reviews
AT Pro Features Explained
The Garrett AT Pro has a handy 6 different modes of detection. These are divided into three discrimination modes – Coins, Zero, & Custom – for two separate types of detection standards – Standard Mode, and Pro Mode.
The AT Pro also has a standard audio mode as well as a pro audio mode. Although the range of these two modes differ, they both offer good and strong audio responses to indicate the typical information of possible targets.
The leading feature of the whole interface setup is the Digital Target ID. The AT Pro is Garrett's first attempt at using a digital target ID that shows the viability of a possible target with a number meter running from 0-99. And although innate risk comes with innovation, with this once, Garrett executed it superbly well.
For this Garrett AT Pro review we found the detection prowess doesn't stop there. It also has amazing high-resolution iron discrimination that run through 40 different levels. It's easy to use, highly reliable, and flexible enough to customize according to your own personal detecting needs. Additionally, the machine also comes with a built-in audio indicator specifically for iron, which makes iron discrimination even easier.
Other than those main points, the AT Pro has a great detecting depth at 9 inches deep, automatic and manual ground balancing features, great pinpointing, a battery indicator, and a coin depth indicator.
With these and its amazing durability, the Garrett AT Pro is the kind of machine that is unlike any other. What really makes it stand out from most of the other brands and models is its ruggedness and versatility – as was mentioned before, this truly is a machine you can use virtually anywhere (even underwater since the coils are water-resistant).
Garrett AT Pro FAQ
What kind of treasure will the AT Pro detect?
Short answer anything and everything of value and interest. Gold, silver, relics, coins etc etc
Is this the only waterproof Garrett metal detector?
Please keep in mind this detector can only be submerged to 10 feet max, so deeper diving would not be possible. For alternative options please see our best underwater metal detector advice.
Does the AT Pro come with a warranty?
Yes. As with buying all Garrett metal detectors from new, the device comes with the standard 2 year warranty.
Does it work in salt water?
Yes, it does. It's main strength water related is in rivers however.
Does the coil cover come as standard? Do I really need it?
With some packages it does come as standard, the more basic it won't. Our advice is to buy the cover, you need to protect that precious dd coil as best you can.
I travel with my detector about 2 – 3 times a year, how small can it be broken down to?
It can fit into a back pack if broken down from the base with a screw driver. Obviously this isn't convenient for frequent travel, but 2 – 3 times a year it's no problem.
Top Tip
Invest in the very best pinpointer detector that your budget will allow. Recovery time will dramatically speed up and your whole experience hunting will be enhanced.
Our Rating
Final Word
With its affordability, functionality, and quality, there is very little reason for someone who is serious about metal detecting not to buy the machine. Our Garrett AT Pro review, revealed very few flaws and for just over $500 it's almost a no brainer.
We would love to hear your own thoughts on the AT pro and as always if you have any questions, please leave them in the comments section below and we will get back to you asap.
GL & HH