Many licensed retailers would attest that the Garrett AT Pro is one of the best selling metal detectors on the market today. And even more users would say that it would be their go-to metal detectors by default. Taking into consideration the sheer number of different types of metal detectors out there, these claims are nothing to scoff at.
What really makes the Garrett AT Pro stand out is its amazing functionality coupled with its great affordability. Garrett has mostly been known for making amazing entry-level machines, and so any mid-range machines that it produced were, for a long time, not getting as much of the limelight. That changed with the release of the Garrett AT Pro. It's a rugged, all-terrain, all-purpose metal detector that you would surely bring along on any spur of the moment treasure hunting session.
Simply put, it's a well-balanced machine economically and functionally.
Garrett AT Pro Metal Detector Design and Hardware Review
A sleek black finish can be seen on the AT Pro, a design choice that deviates from the usual yellow and black color motifs seen on most other Garrett products. Ergonomically, it provides supported comfortable carry supports, an adjustable machine arm length (varying the machine's length from 42 inches to 51 inches), and is amazingly light at a mere 3 lbs (1.4 Kg). All these design considerations make the Garrett AT Pro a joy to lug around during long hunting sessions as the good design makes fatigue less of a worry.
The AT Pro's visual interface is also quite good. It's easy and straight-forward to read and utilize, with an intuitive display design that shows all the most common readouts of the machine outright – no need to go through complicated menu screens to find the exact readout that you need.
It comes with amazing default search coils – the standard 8.5-inch by 11-inch double D submersible search coils provided by Garrett. These are undoubtedly one of the best search coils out there, but if these aren't for you, the AT Pro takes in an astoundingly wide variety of search coils.
AT Pro For Sale – Price and Purchase
The Garrett AT Pro is the middle child of Garrett's best quality detectors. There are its entry-level cousins in the form of the Garrett ACE 150, 250, and 350, whose quality and pricing are top-notch but really meant to be used for novices and beginner enthusiasts. On the opposite side of the spectrum, we have the military and professional grade metal detectors such as the Garrett ATX, which will put you at a couple of thousands of dollars back.
In contrast, the Garrett AT Pro's price, averaging at upwards of $550, is a bit more steep than the entry level price tags, but unquestionably more affordable than the professional-grade ones. It's also worth noting that other metal detectors with the same features as the Garrett AT Pro are much more expensive than $550. So, in a lot of ways, the AT Pro is an amazing bargain.
Now, with all these parts and their bells and whistles, Garrett offers a reasonably two year warranty for the AT Pro – another indicator of how much the company trusts its design and engineering.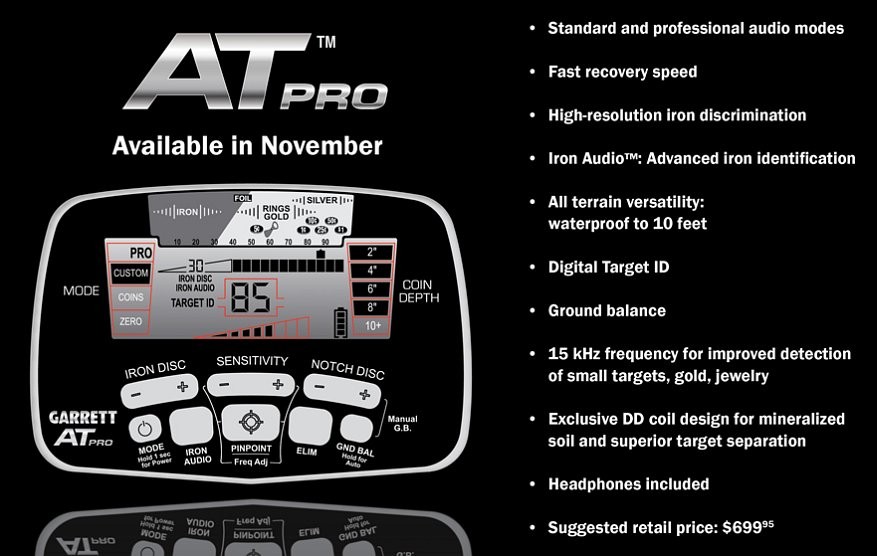 Garrett AT Pro Metal Detector Features Review
The Garrett AT Pro has a handy 6 different modes of detection. These are divided into three discrimination modes – Coins, Zero, & Custom – for two separate types of detection standards – Standard Mode, and Pro Mode.
The AT Pro also has a standard audio mode as well as a pro audio mode. Although the range of these two modes differ, they both offer good and strong audio responses to indicate the typical information of possible targets.
The coup de grace of the whole interface setup is the Digital Target ID. The AT Pro is Garrett's first attempt at using a digital target ID that shows the viability of a possible target with a number meter running from 0-99. And although innate risk comes with innovation, with this once, Garrett executed it superbly well.
The AT Pro's detection prowess doesn't stop there. It also has amazing high-resolution iron discrimination that run through 40 different levels. It's easy to use, highly reliable, and flexible enough to customize according to your own personal detecting needs. Additionally, the machine also comes with a built-in audio indicator specifically for iron, which makes iron discrimination even easier.
Other than those main points, the AT Pro has a great detecting depth at 9 inches deep, automatic and manual ground balancing features, great pinpointing, a battery indicator, and a coin depth indicator.
With these and its amazing durability, the Garrett AT Pro is the kind of machine that is unlike any other. What really makes it stand out from most of the other brands and models is its ruggedness and versatility – as was mentioned before, this truly is a machine you can use virtually anywhere (even underwater since the coils are water-resistant).
AT Pro Video Reviews
Final Word
With its affordability, functionality, and quality, there is very little reason for someone who is serious about metal detecting not to buy the Garrett AT Pro. It is undeniably one of the best machines out there.