Garrett ATX Metal Detector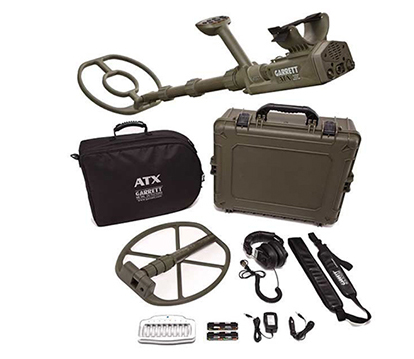 Using pulse induction (PI) technology the Garrett ATX has been manufactured to pinpoint the smallest of targets including gold nuggets, coins and relics with outstanding accuracy.
The ATX Pro is one of Garrett's premium releases, the Rolls Royce of metal detectors if you like, designed and manufactured by a company recognized for their attention to detail and commitment to providing quality devices.
The Garrett ATX metal detector can only be described as the ultimate multi-frequency device, ideal for hunting in all terrains including highly mineralized ground. While the DD search coil can pinpoint the smallest of targets without having the need to compromise the scanning speed, the motion modes provide hunters with optimum overall performance based on the conditions and preference.
Garrett ATX Pro Specifications
| | |
| --- | --- |
| Dimensions: | 68 x 5 x 4 inches |
| Weight: | 5 pounds |
| Waterproof: | Up to 10 feet (3m) |
| Users manual: | Yes |
| Targeting depth: | Up to 19 inches |
| Coil: | 10″ x 12″ DD Search |
| Power source: | AA alkaline and rechargable batteries |
| Headphones: | Included (not waterproof) |
| Discrimination: | 25 modes |
| Pinpointing: | Automatic |
Our Rating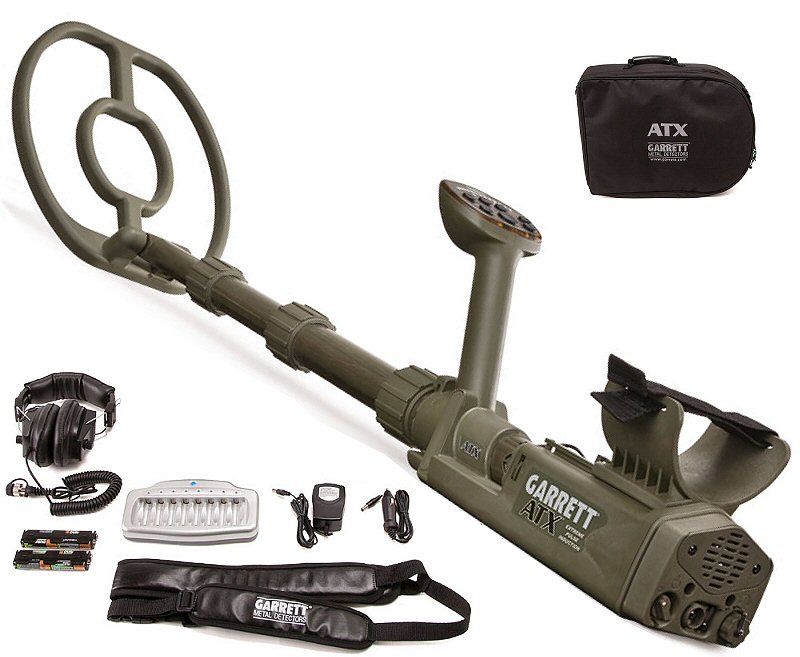 The Good
Works seamlessly on all types of terrain
Waterproof up to 10 feet
730 pulses per second detection frequency can reach depths of approximately 19 inches
13 powerful sensitivity settings
Long battery life up to 10 hours
Provides maximum detection on numerous targets at the same time
Can be operated extended, collapsed or somewhere in between
Good battery life – machine can be used for approximately 24 hours on 4 AA batteries
The ability to hunt without headphones via the in built external speaker
Easy to set up
The Not So Good
The device isn't light at 5 pounds
Expensive
Lacks features which newbies would find useful (graphic indicators etc)
Garrett ATX Metal Detector Performance and Design Review
Quality-wise, the Garrett ATX Metal Detector is nothing short of breath-taking. It's powerful, easy to use, and can be adjusted to target a variety of different metals on all types of terrain (including underwater)
In terms of appearance, the ATX is sleek, stylish, and professional-looking. The machine is a military shade of saturated green and has the Garrett logo on its side. With the look of the metal detector itself, it's clearly obvious it was designed for heavy duty use. Although larger than most common metal detectors and on the heavier side, it's far from difficult to handle and can be carried around quite easily.
Its LED screen is simple and straight-forward; with a machine as powerful as the Garrett ATX, there really is little need for anything too complicated.
The buttons on the interface are also just as easy to operate.
Hardware Review
The Garrett metal detector ATX is a reasonable 20 inches (0.51m) in length extendable to as long as 68 inches (1.72m). It weighs 6.9 lbs including the machine's eight AA batteries. As far as factory warranty goes, it carries the Garrett standard 2-year coverage, with limited parts and labor.
Purchasing the standard package will give you the following:
The ATX Metal Detector
Eight (8) AA Rechargeable Batteries
Battery Charger
Default 10-inch by 12-inch DD Search Coil
Long battery life up to 10 hours
Headphones
Soft Carry Case
Aside from the default search coil included in the purchase, the Garrett ATX can also operate with a Deepseeker 15-inch by 20-inch Mono Search Coil and an 8-inch Mono Search Coil. Although, the default 10-inch by 12-inch DD Search Coil seems to work the best for the device.
Garrett ATX Metal Detector Reviews (Video)
ATX Features Review
The detector can register targets at depths that very few other metal detectors can penetrate and operates at a very impressive detection frequency of 730 pulses per second.
It has 13 different sensitivity settings, 25 discrimination modes, and automatic pinpointing. The ATX's detection modes include motion and non-motion that can be switched between easily dependent on your hunting preferences.
The variety of audio feedback that the Garrett ATX provides is also quite astounding. It has 15 audio settings that give various audio tone outputs to help you in identifying different types of potential finds and has a very hand inbuilt speaker for those who prefer not to use headphones
The Ground Balance function on this machine is also of the highest caliber, working alongside the automatic pinpointing functionality and there aren't any conditions this baby can't handle.
FAQ
Is the Garrett ATX easy to set up?
Yes. After powering up there are 5 simple set up steps you need to take:
1. Select your preferred search mode
2. Set your required discrimination level
3. Select the sensitivity level you require
4. Frequency scan test
5. Ground balance test
There is also a comprehensive instructions manual which can be found here.
You mentioned the ATX is military grade does that mean it can detect land mines?
No. Garrett do manufacturer a detector for this purpose but the ATX is not made for land mines.
Where is the device made?
All Garrett metal detectors are manufactured in Texas (US)
Do Garrett supply cheaper metal detectors suitable for smaller budgets and beginners?
Yes. Garrett have a full range of detectors available including the popular ACE series and other specialist detectors like the AT Gold and the AT Pro. All are excellent machines in their own right but targeted towards beginners.
With the ATX Garrett have really jumped into the higher end of the metal detector market.
Our Rating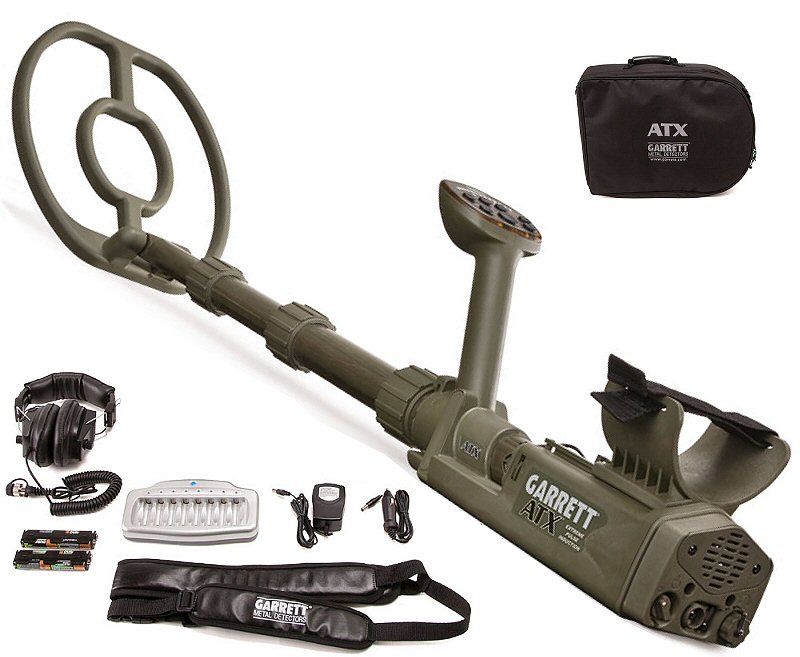 Top Tip
Invest in the very best pinpointer detector that your budget will allow. Recovery time will dramatically speed up and your whole experience hunting will be enhanced.
Final Word
With everything that the Garrett ATX Metal Detector can do, it truly can be classified as an all-terrain, military grade metal detector. Its versatility, functionality, and power are close to peerless. Having hunted with the ATX regularly for the past year and a half it was pretty simple to conduct this ATX review and I'm going to finish by saying if you have the budget BUY THIS DETECTOR You won't be disappointed!
GL & HH