The Best Metal Detectors 2018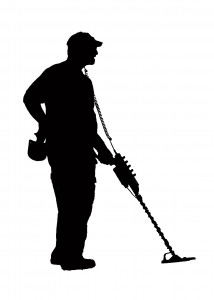 If you asked 100 experienced hunters "What is the best metal detector in the world," you'd be getting as many answers as there are grains of sand on a beach. The fact is, there really isn't any one top metal detector on the market, it boils down to choice, experience level, budget and where you intend to spend your time hunting.
If you are a newbie and have already wasted many hours watching biased reviews on YouTube and reading utter nonsense on the forums, don't panic we have your back. Each and every machine has personally been tested by either myself Bryan (hello!) or a member of the team here at Metal Detector List. Between us we have over 200 years' experience, so you could say we know what we are talking about.
Metal Detector Comparison Table
While the Garrett ATX (see our review directly below) is the only machine you could really call a true all-rounder, we understand that the price tag may be eye watering for some. Within this review of the very best detectors we have split things up into experience levels, terrains and the types of metal you guys wish to hunt.
So, for example if you are a newbie, looking to spend no more than $500 we have your back, check out our beginner's section. Looking to hunt for coins or golden nuggets? No problem check out our detectors within the gold and coins section. You get the gist.
If you would like to contact us directly, we would love to hear from you and also love to help you. Unlike other metal detecting websites, we practice what we preach and love to help any of our readers with first-hand experience and impartial advice.
So, without further ado let's get into some metal detector comparisons and uncover the top metal detectors available to buy today.
Metal Detector Reviews
Best All-Round Metal Detector
The military grade, pulse induction ATX can be used on all terrains, by hunters of all experience levels looking to detect a wide variety of precious metals. The machine can be immersed in water up to 3m in depth and boasts an advanced ground balance system providing the ability to sweep terrains from saltwater to heavily mineralized grounds.
Its extreme sensitivity provides diggers the ability to detect the smallest of gold nuggets (first-hand experience of this) other pulse induction devices would simply miss. While the performance is awesome, the weight maybe tiresome at 5 pounds.
The price tag may also raise an eyebrow at just over $2,000! I've personally owned the ATX for over 2 years and I haven't gotten a bad thing to say about it. If you are a beginner who can easily afford the money, it will be the best purchase you ever make. Let's look at some of the pro's & cons:
Check out our full review of the Garrett ATX here
Best Entry Level Metal Detectors
Getting started with a new hobby, especially one as complex as metal detecting, can certainly seem daunting to many a would-be treasure hunter. Not only do you need to purchase the very best machine for your budget and limited experience, but you also need to get clued up on how the metal detector works!
Most newbies start off spending between $150 – $500 max and we have three cracking machines well within that price bracket, which are easy to set up and make the perfect addition to any metal detecting checklist.
Garrett Ace 250 Review
Many veterans would attest to the Garrett ACE 250 Metal Detector being one of the first metal detectors they might have really grown understandably attached to, I know I still have and use mine on a regular basis!
The electronic pinpointing ensures that targets are located precisely and quickly which removes any chance of getting frustrated and going home early. It's easy to set up, easy to operate and fits nicely into a bag which is perfect for vacations.
At just over $250 which includes headphones, digging trowel, finds bag and carry pouch this really is the ultimate package for any beginner.
Read our full review of the Garrett 250 here.
Fisher F22 Review
While the Fisher F22 may not have all the glitz and glam of other metal detectors, it does the basics very well, making it the perfect metal detector for beginners.
For those of you who will want to get straight out there, having taken delivery of your machine the Fisher F22's turn on and go capabilities will be particularly appealing.
We found the machine to have the capabilities to go as deep as many of the more expensive machines in the $500 price bracket.
It's recovery speed is second to none and with the 8" coil attached, you can cover large areas of ground quickly and precisely.
Read our full review of the Fisher F22 here.
Tesoro Silver uMax Review
We found the uMax lightweight at just over 3 pounds, yet sturdy, durable, and built to last. It produces a long signal when pinpointing as opposed to the standard intermittent beep, which makes things easier and quicker for newbies with limited experience.
For the price, this baby goes pretty deep, during testing we were able to find a nickel at over 9". According to the manufacturers specs the 8" coil included as standard can be used underwater including saltwater, perfect for a day metal detecting at the beach.
For the price and general ease of use, the Ace 250, Fisher & uMax are arguably the very best metal detectors for beginners on the market.
Read our full review of the Tesoro Silver uMax here.
Best Metal Detectors For Finding Gold
Hunting for gold isn't easy. Nuggets are often small and they are generally found in highly mineralized ground. Although it can be difficult at times, I personally love gold detecting and have certainly been rewarded (via several gold nuggets) for my hard work and persistence over the years.
While the answers to many metal detecting questions are highly debatable, owning the very best gold metal detector to uncover targets quickly and accurately is a must. Here are our findings from three of the very best.
Whites GMT Review
Operating on a 48 kHz frequency and weighing just over 4 pounds, the GMT can only be described as the Rolls Royce of gold metal detecting. Much like the GB2 the machine has withstood the test of time, with new machines failing to compete with its accuracy, depth capabilities and amazing sensitivity.
Those gold nuggets which had rewarded me for my persistence and hard work are all down to the GMT. Personally, I don't believe there is a better metal detector on the market for finding gold as accurately as this machine.
Read our full review of the White's GMT here.
Fisher Gold Bug 2 Review
The Fisher GB2 was first brought to market over two decades over. Its lasting presence and steady sales, despite the advent of more technologically advanced models is a testament to the quality and the usability of this amazing machine, making it one of the best gold detectors money can buy.
It's known for its amazing sensitivity having the ability to target the smallest of gold nuggets accurately including ones that barely register on digital weighing scales. The only downside to owning a Gold Bug 2 is that sometimes, it can be a little too sensitive especially when working highly mineralized ground conditions, where it tends to go a little wild.
On the whole, this is a fantastic gold metal detector, that has been proven over a long period of time and a great investment at just $750
Read our full review of the Fisher GB2 here.
Fisher Gold Bug Pro Review
The Gold Bug Pro is one of Fisher metal detectors newest innovations and works as an efficient and highly effective gold detector.
It can only be described as an absolute beast in shallow hunting grounds and is relatively newbie friendly for such a powerful machine. Just like its older brother, the Fisher Gold Bug 2, depth is not something that the Gold Bug Pro is particularly famous for. However, unlike the Gold Bug 2, highly mineralized ground conditions do little to slow down the device.
Even in the most extreme conditions, it can still perform accurate target discrimination on the smallest of golden nuggets!
Check out our full review of the GB2 here
Read more reviews of the best gold detectors here.
3 Of the Best Coin Detectors
Most newbies start off with a little coin metal detecting, it's the most popular metal detecting target within the hobby. If you imagine how many coins are dropped on a daily basis within the US, it's understandable why so many hunters try coin shooting:
BECAUSE THERE ARE MILLIONS OF THEM TO FIND!
Most entry level detectors are perfect for targeting coins. You will need a single frequency VLF detector which runs at 15 KHz or below. A medium to large sized coil is preferable as is inbuilt pinpointer functionality for smaller, deeply buried targets.
The good news is you aren't going to have to spend a fortune to get your hands on one of the very best coin metal detectors, here are three myself and the rest of the team were able to get our hands on and put through their paces!
Bounty Hunter Land Ranger Pro Review
The Land Ranger Pro Platinum is one of the brand's newer models boasting improved target ID, ground balance and control, and sensitivity and depth penetration.
Depth penetration is the Platinum's strongest asset helping to target the deepest buried jewelry, relics, and, of course, coins. Additionally, not only is it amazingly easy to operate, it also has customizable settings and programs for even more personalized usage. Its four modes – discrimination, pinpoint, all metal, and ground grab – are perfect for more narrowed down searches.
All-in-all, the Bounty Hunter Pro is a great machine for coin hunting.
Check out our full Bounty Hunter Land Ranger Review Here
Garrett GTI 2500 Review
On the pricier (but well worth it) side of things, the Garrett GTI 2500 is an absolute powerhouse when it comes to coin hunting. With certain purchase packages, you get all three types of search coils that go with the machine.
There is a 12.5" imaging coil, a 9.5" coil, and the Treasure Hound Eagle Eye Depth Multiplier for a boost in penetration power. It also comes with adjustable professional-grade headphones, a convenient carry bag, a handy metal detecting and relic hunting book, as well as a weather-proofing protective screen cover for the machine's LCD screen.
The GTI 2500 is easy to set up and get to grips with. We always try and complete our testing from the eyes of a newbie and we honestly believe a couple of hours learning and testing would be all it would take for a beginner to master this machine. We loved the all metal mode and its ability to not miss a single coin.
Read our full review of the GTI 2500 here.
Fisher F22 Review
With ten adjustable sensitivity levels, a handy pinpoint mode and the ability to target deeply buried coins, at Metal Detector List we believe the F22 is a steal at under $250!
Weighing just 3 pounds the Fisher can be swung around all day with ease, it requires only 2 AA batteries and features a very nice VDI readout, making it very easy to determine what you have targeted.
We particularly liked the accuracy of the multiple tones, which alert you to a good hit without having your eyes glued to the screen the whole time.
If you have only budgeted around $250 for your new coin detector, it's an absolute no brainer the Fisher F22 is easily the best metal detector for the money.
Top Rated Cheap Metal Detectors
You don't need to break the bank when investing in equipment for metal detecting. There's a whole variety of inexpensive metal detectors which provide the ability to target a variety of metals accurately on various terrains.
Whether you're a novice trying to get into the field and is looking for a more affordable entry-level machine, or you're a grizzled veteran who just wants another cheaper extra metal detector for you to use, it's somewhat satisfying to uncover a device which works just as well as another yet costs half or even a third of the price.
It's important to keep in mind that cheap metal detectors are quite different from cheaply made ones. Do your research, starting off with our reviews of 3 of the very best budget friendly metal detectors below:
Tesoro Compadre Review
At just over $150 and a lifetime warranty, the Tesoro Compadre is our top pick for the best inexpensive metal detector. We tried it out over a 6 month period and the found the depth capabilities amazing. Coins at 9", gold at 7.5" after a little sensitivity adjustment!
You have to bear in mind, there is no other metal detector available on the market that you can be used for gold nugget shooting successfully within the Compadre's price range.
It's light in weight, alerts via a single tone and made us wonder why we had all disregarded Tesoro detectors until now.
We can honestly say if you start off with the Tesoro Compadre, you are going to have to spend big bucks to upgrade.
Word of advice: We tested with both the 5.75 and 8" and found the 8" coil to provide better depth, improved area coverage & vision pinpointing.
Bounty Hunter Tracker IV Review
At just under $100 the Bounty Hunter is a very nice detector for the price. It can adapt to extreme ground conditions and features a 2-tone audio mode, discrimination mode and all-metal mode, which you can switch between easily via a flick of the mode toggle.
It's easy to set up, simple to operate and can easily be swung around for long periods of time, weighing just 3.7 pounds. Although not renowned for its depth capabilities, we found it respectable hitting targets 7" deep with ease. The discrimination we found very impressive. For the price, you will find it hard to find a better cheap detector.
Minelab X-Terra 305 Review
This machine is known to be the entry level detector in the Minelab X-terra Series. For those of us not in the immediate or urgent need for a top of the range (and consequently, top of the price) machine, this model made by the ever-reliable Minelab Metal Detector company would be a good choice.
There are certainly better functioning models out there, but for sheer ease of use and the great benefit of being able to switch out the coils yourself, the X-Terra is a cheap metal detector to be considered.
The Minelab X-Terra 305 combines comfort with useful extra features that really make it stand out from other metal detectors. All-in-all, apart from the lack of a graphic target ID and a few other small issues, the X-Terra 305 is a superb machine that won't break the bank.
Read our full review of the X-Terra 305 here.
Best Waterproof & Underwater Metal Detectors
So, you have decided you fancy a bit of underwater metal detecting and your searching for the best waterproof detector?
Within this category it's hard to mention machines which cost less than $600.
If you're a newbie just starting out, it's hard to find a good reason to start underwater. For the more experienced underwater detecting whether that be in a lake or at sea can be very enjoyable. There is nothing more exciting than pulling out gold, coins or other treasure buried underwater – believe you me.
Below are three of the best rated metal detectors that have the capabilities for use up to 200ft underwater:
Minelab Excalibur II Review
We found the Excalibur II very reliable whether on the beach, wading in shallow water or submerged to 200ft. You will very rarely receive any false signals, so if you hear that beep it's literally always time to start digging.
Compared with the other two underwater detectors the Minelab is by far the more expensive, it is also by far the better of the three, so if you have the cash and intend to make use of all its capabilities it's a very wise investment.
It takes a little time to fully understand exactly what it's telling you, for newbies who have little experience with other machines, it may be a steep learning curve.
Over the course of a 6 month period testing the Excalibur II it more than paid for itself twice. We have personally reviewed hundreds of the best metal detectors, but can only say that of a few!
Garrett Sea Hunter MK-II Review
The MK-II is a brilliant machine both fully submersed or for working both dry and wet sand at the beach. We particularly liked the straps, which can be attached to almost any wet-suit and make swinging very easy and non-strenuous.
It's submersible up to 200ft and features four excellent stem configurations for maximum comfort of all tastes. We found it very easy to set up, extremely sensitive to gold and provides a clear audio response to targets via the waterproof headphones which come included as standard.
Tesoro Tiger Shark Review
The Tiger Shark is perfect for use both on land and underwater. The full discrimination mode is brilliant at filtering out junk and its ability to just turn it on and go is perfect for those that prefer hunting rather than setting up!
Working in depths of up to 200ft and designed for use both in both salt and fresh water, you won't find a better underwater device for the price category.
The machine features a drop-in battery, microprocessor technology and a removable centre pole which again saves you money eliminating the need to purchase an additional divers pole. The Tesoro operates on a 12.5 KHz frequency and includes a hard wired 10.5 inch search coil.
Read further reviews of waterproof metal detectors here.
Best Kids Metal Detector
Metal detecting is a great hobby which can be enjoyed by all members of your family of all ages. I regularly take my own son Alex metal detecting, who is 10 and absolutely loves it.
When it comes to the best children's metal detector the market is somewhat flooded with choice.
If you have little experience hunting yourself, it's often hard to make an informed decision as to something which isn't going to break the bank (kids often like something one day and not the next) yet actually works and will provide your child with the opportunity of actually finding some metal.
It's important to note that we only review "real" machines here at Metal Detector List, so why the toys can be fun particularly for younger children they are basically useless when it comes to detecting metal.
Bounty Hunter Junior Review
The Bounty Hunter Junior is fully adjustable which means it can grow as your child grows. It has the ability to target coins up to 5" deep and comes with a very easy to follow instruction manual, perfect for parents who have an impatient child who can't wait to get out there are find some treasure!
Much like Bounty Hunters machines designed for adults the Junior feels sturdy and is built to last. The adjustable trash elimination setting works well and relieves frustration, while the ergonomic design makes for a comfortable swing and enjoyable day out.
(click on the title to view the product page)
The EFX MC1 is guaranteed to turn any child's head with its distinctive bright green colored appearance. It's well made and durable enough to withstand being bashed around by a less than careful child!
The visual target indicator is very basic, yet does its job and it performs well in terms of depth up to 24" for larger objects. The standard coil is submersible by up to 24" deep and the unit can be adjusted from 26" to 36" in length catering for a variety of different ages.
Bounty Hunter Gold Digger
The Bounty Hunter Gold Digger is a great metal detector for children. It has good decent depth capabilities of approximately 7" on a coin size target. Once your child becomes familiar with the high and low tones of the signal alert, they will have great fun with this machine and hopefully target some bling!
The detector is waterproof up to the electronics box and has an adjustable handle, making it perfect for kids of all ages and sizes.
My son and I have personally experienced about 85% accuracy for filtering out trash and pull tabs and have regularly had better days than hunters using $500+ machines.
Read further reviews of the best kids metal detectors here.
Consumer Favorite (Sales Based)
Sales are generally a good indicator of how good a detector is. Following the crowd is not necessarily a bad thing, top selling metal detectors normally sell for all the right reasons. Whether you're looking for brand new metal detectors or more-affordable but just as effective used metal detectors, knowing what the market's top sellers are is always good to know.
The Minelab GO-FIND 60 is one of the most popular models lately, and for good reason. It's not the most complex of machine's – it's built for easy use, portability, and accessibility and is perfect for sharing within your family.
Don't let its user-friendly features deter you, it functions just as well and sometimes even better than most other more complex models. Target sensitivity and detection depths are taken into consideration when making this machine.
It is incredibly lightweight as well as easy to turn on – there is virtually no assembly required and all you have to do is to unpack it, unfold it, and start treasure hunting. It has tons of other wonderful features one might expect from a Minelab machine, but is readily affordable and hassle-free to operate.
Garrett AT Pro Review – To Good Not to Mention
Although I mentioned the ATX as the very best all-round metal detector, I thought it important not to leave out the AT Pro within this metal detector review.
The Garrett AT Pro is a well-balanced, powerful machine perfect for both newbies and the more experienced. At $600, it's over $1500 cheaper than the ATX yet still features some of the incredible capabilities of the more expensive machine.
It will read accurately at depths of 10 – 12 inches, is fully submersible (including salt water) and can discriminate the good stuff from the trash with ease.
If you head over to Amazon, there are some amazing deals with this machine, including packs containing pinpointer, hat, digging knife and other accessories which are a necessity for a fun and successful days hunting.
Buying the Best Metal Detector FAQ – Questions You Should Answer
How Much Is Your Budget?
Like most things in life buying a top-rated metal detector should be based on the amount you have available to spend. Detectors generally come in price brackets: $175 – $300, $300 – $600 etc, so set your budget and shop accordingly.
If you are the type of person that always has the newest and most expensive gadget, then go out and get the ATX, if you are more reserved with your spending and still not sure whether hunting is the hobby for you, consider purchasing the 2nd or 3rd model up within the brand.
Will You Be Sharing the Machine with Family Members?
If the answer is yes, and you will be enjoying the detector with your son, daughter, wife or husband it's important you consider the weight and size. Many machines will adjust in various places in order to "fit" the person using it.
Where Will You Be Using the Detector?
For your convenience we have split our metal detector reviews into specific categories for gold, coins, underwater etc. Before making any purchasing decision it's important you consider the environment, terrain and if there is any specific metal you will be hunting regularly.
If you feel you are going to be trying a little bit of everything (perfectly understandable) consider a good all-rounder like the ATX or AT Pro
Will You Be Using the Detector in And Around Water?
If you have spent any length of time researching you will have noticed that not all detectors are waterproof and some will struggle on wet sand. If you live near rivers and lakes and are planning to hunt on the edge of the water most mid-level all-purpose metal detectors feature waterproof coils, that work well in shallow waters. If you intend to fully submerge the whole of the detector scuba diving for example you will need an underwater detector.
How Much Experience Do You Have?
We all have to start somewhere and if you have little too no experience you will be glad to hear that many of the best metal detectors feature quick start settings. The majority will provide excellent instructions and often instructional DVD's to help you get the most out of your machine.
It's important to note that even if you have a large budget and are itching to get your hands on a top of the line detector, they can be complicated to both set up and fine tune.
How Rough Will You Be?
Be honest with yourself, it's likely the machine will get bashed during usage and also in transit if you intend to take it on days out or maybe on holiday. Most metal detectors priced upwards of $200 are rugged and built to last.
We hope you have enjoyed our best metal detector reviews and no matter what your level of experience, preferred targets or terrain you have some good ideas on your next big purchase.
We love to hear from our readers, so if you have any questions, or would like to provide a metal detector review of your own please use the comment section below, or contact us via this link.
As always GL & HH