Best Metal Detectors For Gold Reviewed
I think we all agree on one thing with regards to digging for gold – finding it quickly & regularly isn't possible without the best gold detector. There's no two-ways about it, investing in a less than adequate device simply isn't going to work and will likely end in nothing more than sheer frustration.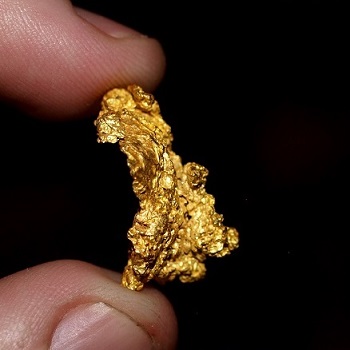 The reason why gold targets are particularly difficult to find lies in several factors, but two major issues stand out the most. Firstly, gold nuggets are found in notoriously small sizes, which makes them all the more difficult to find with gold metal detectors which possess a low targeting depth and weak target ID scale. Big nuggets can be found from time to time, but on average, you'll be looking to get gold finds not more than 1 gram in mass.
Secondly, gold nuggets can only usually be mined in ground conditions that are highly mineralized; interference from different metals such as iron and other underground relics can very easily throw off metal detectors not powerful enough to specifically target gold.
Over the course of several months we put the 5 best metal detectors for gold through their paces to enable us to provide this in-depth review. Our aim was to ease the burden for budding newbies but also the more experienced who were interested in improving their chances of finding gold.
So, without further ado, let's get down to business and unveil the very best gold detector.
Gold Detectors Table Specification Comparison
| Gold Detectors | Level | Rating | Price |
| --- | --- | --- | --- |
| Fisher GB2 | Intermediate | 4 | $$ |
| Fisher GB Pro | Beginner / Intermediate | 4 | $$ |
| White's GMT | Beginner / Intermediate | 5 | $$ |
| Garrett AT Gold | Intermediate | 4 | $$ |
| Garrett ATX | Intermediate / Advanced | 4 | $$$ |
Fisher Gold Bug 2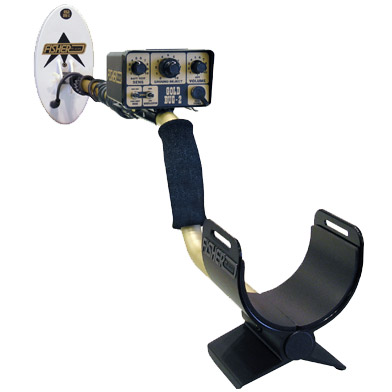 You would be hard-pressed to find metal detector more popular for gold prospecting than the Gold Bug 2. It's been an industry standard for over two decades to date. Very few metal detectors (and market products, in general) remain this popular for this long – a testament to its quality as a gold-finding machine.
Its popularity stems from its amazing sensitivity. The ultrahigh frequency (the highest on the market) and powerful 71 kHz operation make finding even the smallest gold nuggets possible with this little beauty!
It's light in weight at just 2.9 pounds, which makes swinging it round for long periods of time both comfortable and enjoyable. It has the ability to detect gold as small as a pin head and can go as deep as 5 inches on a 1 gram nugget.
Having tried this baby out over a variety of terrains over a 3 month period, we fully understand why other diggers would state they wouldn't even contemplate another gold detector. The Fisher GB2 has everything they would ever hope to need in a gold metal detector. The proof's in the sheer volume of gold both we and other hunters report detecting.
One quick tip for the Gold Bug 2 is to make sure you're hunting for gold in shallower areas. This detector does not do too well with depths and so looking for gold in areas where you'd think to find them about a few inches underground would be ideal.
If there's a downside to owning a Fisher Gold Bug 2, it's that its sensitivity is sometimes so high, it sometimes has trouble with ground conditions that are too mineralized. Although the same can be said for many other detectors, using the Gold Bug on the hottest ground conditions would sometimes result in it not working.

| | |
| --- | --- |
| Pros | Cons |
| Lightweight | Difficult to operate in highly mineralized ground |
| Ability to detect the smallest nuggets | Can be a steep learning curve for newbies |
| Convertible to hip & chest mount | |
| Dust & moisture resistant | |
| Advanced ground rejection circuitry | |
| 5 year warranty | |
| 1 foot maximum depth | |
Fisher Gold Bug Pro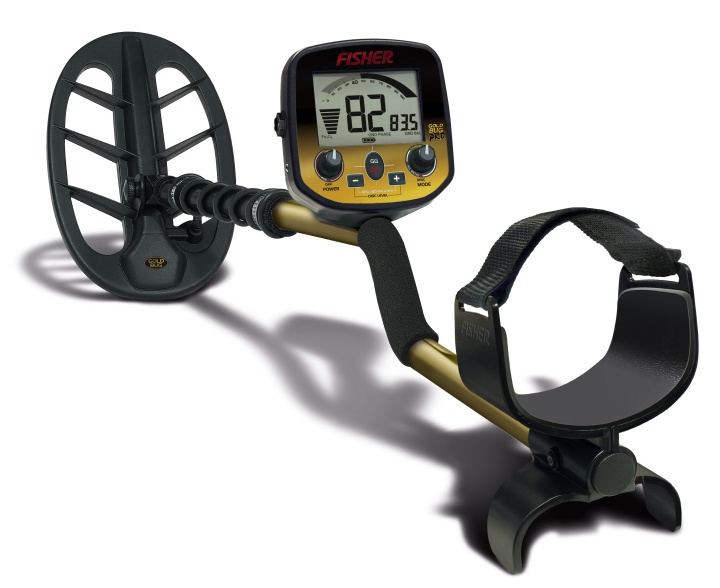 One of Fisher Labs' newer creations, the Fisher Gold Bug Pro is a quick, simple, and highly effective gold metal detector. It works especially well in shallow hunting grounds and is one of the most straight-forward machines any newbie who wishes to strike gold could get their hands on!
It comes with a 5″ search coil as standard and boasts a kHz operating frequency. Much like the GB2, the pro is ultra lightweight at just 2.5 pounds and includes the metal detecting industries first breakpoing tone discrimination system.
Just like most other detectors that aren't reliant on something as powerful as pulse induction detection, depths are not the Gold Bug Pro's strong suit. However, it handles highly mineralized ground conditions exceptionally well and has astoundingly accurate target discrimination. Avoiding iron and other false positives has never been easier.
Top Tip: If planning to get this detector, it is recommended to get the optional 5 inch by 10 inch double D coil. Its sensitivity is top-notch and its shape is convenient for really getting into hard to reach nooks behind bushes and foliage.

| | |
| --- | --- |
| Pros | Cons |
| Newbie friendly | Fails to compete with the GB2's sensitivity |
| Operates in highly mineralized ground conditions | |
| Excellent discrimination capabilities | |
| Lightweight | |
| Visual target ID | |
White's GMT Metal Detector For Gold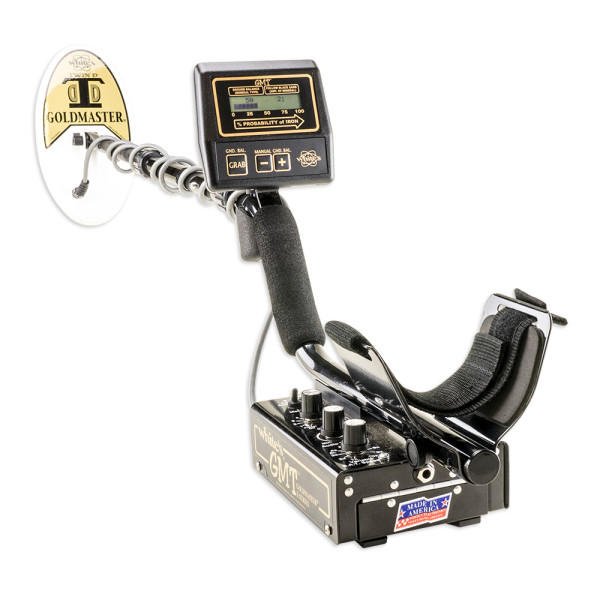 The GMT is certainly one of White's most recognized machines. Some enthusiasts would go as far as to say that the White GMT is even better than the popular Gold Bug 2. This claim is not to be taken lightly, the GMT's sensitivity truly is something to behold.
It has automatic tracking so it adjusts to the conditions of the ground you are currently scanning. This is ideal for environments when ground conditions are varied and complex.
The GMT comes included with the standard 6 x 10″ DD search coil, operating on a 48 kHz frequency. It weighs 4.2 pounds and boasts a full-time iron ID bar graph, which we found very handy when making the decision whether to dig a target or not.
Like the Fisher Gold Bug 2, the White GMT has been a market favorite for quite some time now. Also like the Gold Bug 2, it has been favored by many a gold prospecting veteran in lieu of the newer models sold in the market. It's widely known to work just as well (and sometimes, even better) than its more contemporary competitors.
As old as this model is, it still has a nifty graphic display and was actually one of the earlier models to adapt such a feature. This gives users a choice between visual and audio indications.
It's important to understand that the White's GMT contains no pinpointing circuit. This means that in order to locate very small gold nuggets you unfortunately must dig the general area.

| | |
| --- | --- |
| Pros | Cons |
| User Friendly | Unable to pinpoint smaller nuggets |
| Reliable | |
| Impressive depth capabilities in hot ground on larger nuggets | |
| Eliminates the chore of digging iron | |
| Reasonably priced considering capabilities | |
Garrett AT Gold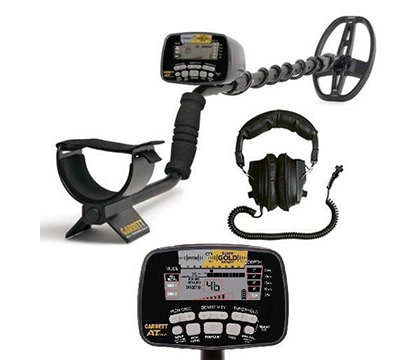 When it comes to gold detectors Garrett don't fail in providing the very best machines on the market. The AT Gold has been known to be one of its best-selling models and has the technical and functional capabilities to earn its reputation. This model was Garrett's answer to last decade's sudden spike in gold prices and so has been an industry favorite for a little over a decade.
This gold metal detector has a lot of useful features and customization settings. It comes with different and varied options when it comes to detector coils. It can also be personalized as a purchase, seeing as buying the Garrett AT Gold as a bundle package gives you amazing deals with supplementary add-ons and attachments that go with the machine.
Aside from all this, it might be useful to note that the Garrett AT Gold is waterproof. A lot of gold nuggets can be found in bodies of water, from streams and from small ponds and creeks. This actually sets it apart from the vast majority of its major competitors; not a lot of gold detectors were particularly designed to be waterproof.
The AT Gold's ability to detect almost everything can be very disheartening for a newbie who picks a high trash area to hunt on. It's important to note the setting on this baby need to be fine tuned in order not to have a disappointing day!
| | |
| --- | --- |
| Pros | Cons |
| Easy to use | Can't be used in or near salt water |
| Great instructional video | Has the ability to detect everything if not set correctly |
| Digital screen | |
| Good battery life | |
| Lightweight | |
| Iron audio | |
| Goes very deep on certain targets & terrain | |
Read our full review of the AT Gold here.
Garrett ATX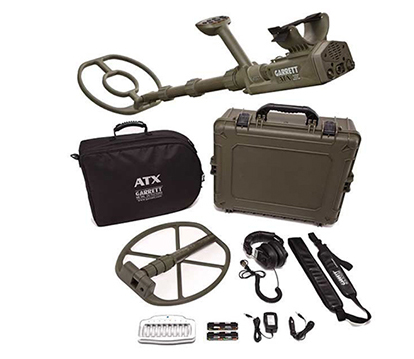 The Garrett ATX was Garrett's first attempt at creating a gold metal detector that utilizes pulse induction detection. This technology is famous for its amazing sensitivity and range, easily getting through depths that most other machines can't dream of detecting through. It's been said that this model was Garrett's shot at competing with the ever-popular Minelab series of metal detectors.
One of its bundle packages, named the "ATX Deepseeker" package, gives buyers a supplemental 20-inch double D coil that punches even deeper when coupled with the pulse induction technology of the machine. This gives you signal penetration power unlike any other machine can provide.
Its resistance to water goes as deep as 10 feet. This makes the Garrett ATX perfect for any submerged gold prospecting escapades. On a lesser but equally more convenient note, the fact the machine is waterproof allows you to go out for a wet day detecting in the rain!
If the price tag makes you gulp, you have to realize you are getting so much more than just one of the best gold metal detectors on the market. Be sure to check out our full review of the machine here, which outlines it's full capabilities in great depth
Perhaps one con of this machine is that it is a tad bit weighty for some users. Some users find it difficult to swing and detect for long periods of time. Although this was done this heavy to make it extra durable, some consumers might prefer it to be a bit lighter.
All-in-all, it's a great machine and should seriously be considered by any enthusiast looking to take gold prospecting seriously.
| | |
| --- | --- |
| Pros | Cons |
| Extreme Sensitivity | Heavy machine – 5 pounds |
| Waterproof to 10ft | Prone to falsing at the end of your swing |
| Ground balances to saltwater | |
| The ultimate all rounder | |
| Easy set up | |
Best Gold Metal Detector Video Reviews
Gold Detectors FAQ
Where Do I Find The Gold?!
That's a very good question! It's fair to say that you can have the best gold detector on the market, set up perfectly to detect those beautiful valuable nuggets, but if you are hunting in the wrong place you will find nothing. Take time to research areas carefully, you will likely find details of gold producing areas in your local library and there are many excellent books on the topic available at amazon. For a more detailed overview of the best places to hunt, be sure to check out our guide here.
Do I Need A Specific Size Of Search Coil?
As a general rule of thumb, larger coils will go deeper for larger nuggets but will be less effective at targeting smaller nuggets than a search coil smaller in size.
How Deep Can A Gold Detector Go?
Much like the ability of various sized coils a gold detector will go pretty deep for larger nuggets and less so for very small. For a good sized nugget a decent gold metal detector could go over a feet deep, as opposed to a single grain nugget which is likely to be targeted comfortably at 1-2 inches.
What Is Ground Balancing? Why Do I Need It?
The amount and type of minerals in the ground will vary depending on the location. Without the aide of ground balancing within your detector the machine would not be able to see through all the minerals in the ground and basically be giving you false signals left, right and center. Ground balancing is the key to filtering out any iron content in the soil. If you are a newbie don't be put off by the need to manually ground balance your detector, you will find loads of easy to follow online guides and is a skill every hunter should master
Wrapping Things Up
We hope you enjoyed our reviews of the very best metal detectors for gold on the market. As with all large purchases you make in your life time, it's important to weigh up the pro's and con's of all options available and make an informed decision based on what meets your needs, budget and level of expertise.
It would be great to hear from your guys as to your own thoughts on gold detectors. Maybe you have first hand experience of the machines we reviewed above, or possibly would like to leave a mini review of a device not mentioned. Either way, please leave your comments in the comment section below.
As Always
GL & HH