The Best Metal Detecting Sand Scoop
Taking the time to do some research on the very best metal detecting sand scoops is a wise decision. Many newbies believe that once they have purchased their metal detector they are good to go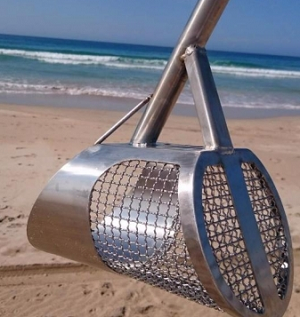 hunting, without the need for the vital accessories.
For those of you that hunt regularly at the beach you will know a good beach scoop is vital for recovering your targets quickly.
Hunting at the beach is varied and can be difficult. Some like to work the dry sand while others prefer to spend time sweeping the surf or go ankle deep in the salt water.
Either way you will need equipment which can stand up to the often harsh elements and in terms of a sand scoop your choice of one made from plastic, aluminium or steel will depend on the areas of the beach you intend to cover.
Sand scoops for metal detecting can vary in price and come in all shapes and sizes. After some vigorous testing we review the very best below:
Beach Scoop Comparison Table
| Sand Scoop | Handle | Material | Our Rating |
| --- | --- | --- | --- |
| Garrett Metal | Short | Metal | 4 |
| Pro Handheld | Short | Plastic | 3.5 |
| Whites Handhled | Short | Aluminium | 4 |
| Pro Knee High | Medium | Aluminium | 4 |
| RTG Pro | Medium | Aluminium | 4.5 |
| RTG Straight Handled | Long | Aluminium | 4 |
6 Metal Detecting Scoops Reviewed
Garrett Metal
Short Handle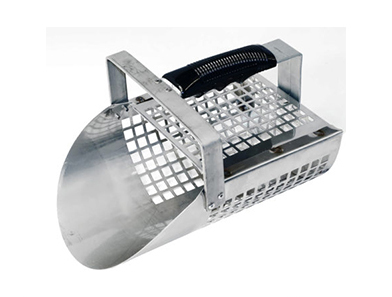 The Garrett beach scoop is 10 x 8 x 6 and weighs in at just under 2 pounds. Much like many of the
Garrett metal detectors
this scoop will not disappoint, it's as solid as a rock!
While many of you maybe more comfortable with a long handled tool I really love the ease at which you can lift and shake the sand.
The shovel is very sharp (ouch) which helps to cut through the sand with ease. Although I use a different model usually and was only testing this baby I spoke to other hunters who assured me it's highly durable and built to last ie no rust.
At just under $40 it's a no brainer if you're going to be detecting at the beach or on any powdered ground.
We really liked this Garrett scoop, one thing which did surprise us however was the weight and size of it. Sure, if your diving in the water with it your unlikely to have a problem, however lugging this thing around all day on the beach might cause some strain!
| | |
| --- | --- |
| Pros | Cons |
| Sharp shovel, cut's through sand | Heavy & large |
| Built to last | Edges can be sharp – wear gloves |
| Good price | |
| Wide opening | |
Pro Hand Held Plastic
Short Handle
At $12.95 this beach scoop is a very affordable option for those that hunt at the shore occasionally. It measures 14 x 3 x 5.5 and is light in weight at only 11.8 ounces. It's been designed with holes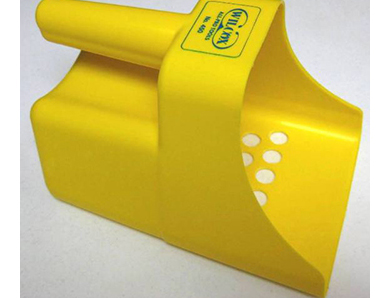 small enough to catch coins and works very well on dry sand.
Even though it's plastic it's been manufactured to last, it doesn't feel the least bit flimsy and there were no signs of it cracking or struggling.
Personally I believe the metal sand scoops are always worth the extra investment. I do however fully understand that a newbie who has just forked out $500+ for a metal detector may be a bit hesitant in spending big on all the accessories. If you hunt on the beach occasionally and only on the dry sand this scoop is recommended, otherwise I would seriously consider a better metal model.
We found that although the Pro caught coins with relative ease, the holes were a little large for smaller finds like earrings which fell through. We also found the lack of holes on the side both frustrating and quickly got tired from all the vigorous shaking!
| | |
| --- | --- |
| Pros | Cons |
| Works well in dry sand | Smaller finds can fall through the holes |
| Light | Lack of holes on the side |
| Affordable | Lacking on wet sand |
| Easy handling | |
Whites Handheld Aluminum
Handheld
The Whites aluminium sand scoop weighs just over 1 pound and is 12.6 x 9.8 x 7.9 inches. It's extremely sturdy and as advertised most definitely built to last.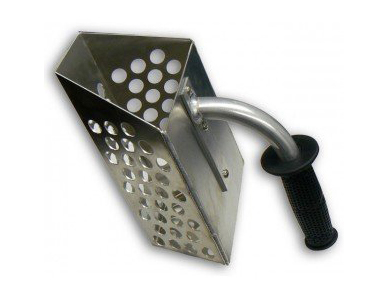 It features a rubberized grip, reversible handle and does exactly what it says on the tin – makes life a lot easier when metal detecting at the beach!
It works well in the water and surf lines and has perfect washing capabilities.
The holes are generally the correct size and it's a good weight and size. As with all products from Whites the craftsmanship is top notch, this tool is as sturdy as they come.
We particularly liked the front handle design on this, it made sifting sand that little bit easier.
For an aluminium scoop we think it's a little over priced. We also found the aluminium bent slightly at the tip when we were testing it out with heavy rocks. If you intend to use your metal detecting beach scoop for this purpose we would always recommend a steel tool.
| | |
| --- | --- |
| Pros | Cons |
| Works well in both wet & dry sand | Expensive |
| Quality workmanship | Bent slightly at the tip |
| Good size and weight | |
Pro Knee High
Medium Handle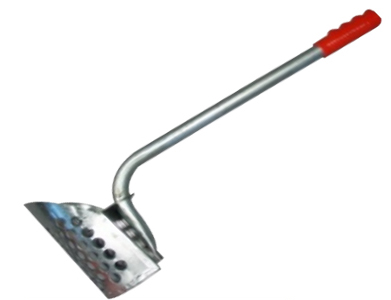 The Pro Knee High measures 24 x 8 x 5.2 and is extremely affordable at just under $35. It works very well in dry sand and as long as it isn't abused in wet it will definitely do the job.
As the name suggests it features a knee high handle and is reasonably light in weight, which is great if you intend to hunt for a longer period of time.
The rubber grip on the handle makes it comfortable and easy on the hands.
All in all this is an inexpensive tool which is suited to a newbie or hunter that visits the beach only occasionally. You never know what you are going to uncover, it could pay for itself 100 times over if your lucky!
This isn't a perfect sand scoop by any stretch of the imagination. With most things in life you get what you pay for and we found several flaws. The first thing we noticed was wide gaps in the welds, which could cause rusting over time. The lack of quality workmanship is clearly evident compared with the more expensive big named brands. Honestly I wouldn't expect this thing to last over a long period of time.
| | |
| --- | --- |
| Pros | Cons |
| Affordable | Wide gaps in welds |
| Comfortable | Unlikely to last |
| Reasonably lightweight | Lacks quality |
| Fully waterproof | |
| Amazing capabilities | |
RTG Pro Aluminium
Medium Handle – Travel Friendly
The RTG Pro measures 18 x 6 x 12 and is a top of the line sand scoop for metal detecting that works well in shallow water and on the sand. The handle is removable, making it a perfect fit for a suitcase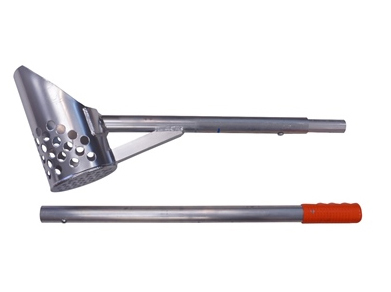 and your next vacation. It features a well manufactured grip, which is very comfortable.
Built in the US and most definitely to last, the quality of the welds on this tool are of the highest quality. It features a very strong design which results in zero flex, even when working heavier wet sand.
The handle has been welded at a 20 degree angle, which means you can make use of your foot and give you back a much needed break when pushing it into the sand. It's lightweight aluminium frame means it can be lugged around all day with ease and you will never have to worry about rust from using it in or near the water.
We found it very simple to set up:
Undo a screw
Slide In
Line up the holes
Screw
Spending a fair amount of money on a sand scoop like this is going to guarantee a few things. Firstly, you are going to find your targets quickly, usually the first time. Secondly, you will have a tool at your disposal that will work very well on both dry and wet sand and when metal detecting underwater. If you want a sand scoop that is extremely well manufactured, perfect for travel and will probably last many many years, then the RTG pro is our top pick!
The only negative we found was the tendency for the handle screws to back out after excessive use. It's a minor problem and solved easily by a couple of SS bolts and washers.
| | |
| --- | --- |
| Pros | Cons |
| Removable handle – travel friendly | Expensive |
| Well manufactured | Handle screws can back out |
| Lightweight | |
| High quality | |
RTG Straight Handled
Long Handle
The RTG features a 36″ long fixed handle with very comfortable rubber grip. The bucket is what only can be described as the perfect size at 5″ in diameter and the holes allow sand to slip out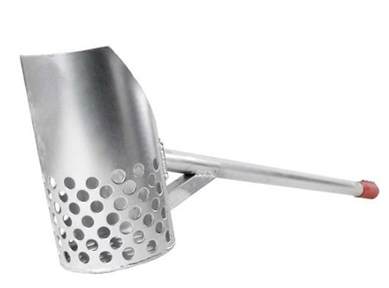 quickly but not your targets – what more could you ask for?
At just under $100 and cheaper than many similar models it's strong, very well built and should be a serious contender for any hunter looking for the very best long handled sand scoop.
It's lightweight aluminium frame allow for a full days hunting without any problems and the length of the handle is absolutely perfect for saving any ageing back!
Honestly if you like what you have read so far and the price tag fits in with your budget, it's a no brainer.
The RTG does work well in wet sand, however we felt a sharper point would have been beneficial and made life a little easier. Although it's hard to question the quality, we felt a slight improvement with the welding where the handle meets the scoop would improve this already impressive tool.
| | |
| --- | --- |
| Pros | Cons |
| Well manufactured | Needs a sharper point for wet sand |
| Aluminium frame | Welding possibly needs to be improved where the handle meets the scoop |
| Perfect bucket & hole size | |
| Reasonably priced | |
Beginner Tip:
Keep the sand scoop away from the metal detector to avoid false readings
Metal Detecting Sand Scoop FAQ
Which Material Is Best?
When it comes to sand scoops for metal detecting you have 3 choices of material – plastic, aluminium and steel. You choice should reflect the areas of the beach you intend to hunt on, frequency of use and your budget.
Plastic scoops are cheap, lightweight and can be a good choice for those making infrequent trips to the beach. I've heard that many hunters have made their own, however personally I believe your better off spending that time detecting If you intend to work mainly dry sand which doesn't contain large, heavy and sharp rocks a plastic scoop will work well. If your focus lies elsewhere it's unlikely the plastic will last for any long periods of time.
Aluminum on the other hand is a far more sturdier material yet still reasonably light in weight which brings about an obvious advantage. Although the sand scoops made from the metal will cost more than those made of plastic, an aluminum scoop is needed if you intend to hunt on wet sand and need a tool that can handle rocks and large shells.
Steel scoops are by far the most durable but bring about expense and also a heavier tool. They make perfect water scoops via their weight which helps you force them into the ground underwater. They are also preferred on wet hard sand in which you can use your foot to help dig deep and quickly.
What type of handle length do I need?
Handheld scoops will involve you drop to your knees to recover your target, much like you would when recovering with your hands. They provide an inexpensive option for those that are fit enough to get up and down frequently. Many are small enough to be taken on vacation and if you decide to upgrade to a knee high or long handle tool they are a great back up.
A knee high scoop will work well on dry and and fairly on wet. They are made from aluminium and steel, with many fitting in a suitcase easily via their pull off handles. If you visit the beach regularly and like to work the wet sand or surf, a knee high scoop is the very least you should be considering.
More expensive and generally of a high quality the long handled sand scoop is an investment all serious beach metal detectors should be making. They are generally heavier in weight, which can be a problem for carrying round all day but perfect for plunging into the wet hard sand via the aide of your foot.
If you intend to go near or in the water a stainless steel scoop is a must.
Beach Scoop Videos
How To Make A Sand Scoop
A metal detecting sand scoop is a must for any beach detector. As with all equipment, cost and quality vary and you need to decide on the best tool for your needs.
Would be great to hear your thoughts and any additional recommendations you have first hand experience of.
GL & HH