Best Beach Metal Detector | Hunting In The Sand
Over the years I've had some memorable days detecting at the beach. Living just an hours drive from the coast has resulted in my beach metal detector seeing much action and has accounted for the majority of jewelry I've found hunting.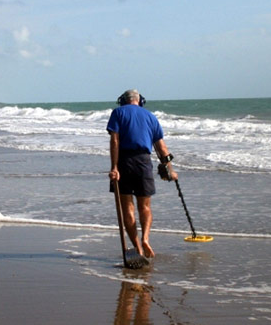 While the shore can be a very rewarding place to dig it can also be one of the most challenging, dependent on which areas you decide to cover.
The dry sand will generally be handled with ease by any metal detector irrespective of whether it falls into the entry level or more advanced categories.
As you can imagine the minerals in the ground can be problematic, which makes it important your detector at the very least contains a ground balance control, which can be adjusted to account for those minerals present in the ground.
Beach Detectors Comparison
| Make & Model | Water Depth | Price | Our Rating |
| --- | --- | --- | --- |
| Garrett ATX | 10 Feet | $$$ | 5 |
| Fisher F2 | N/A | $ | 4 |
| Garrett Ace 400 | Ankle Deep | $ | 4.5 |
| XP Deus | Fully Waterproof | $$$ | 4.5 |
| Garrett AT Pro | 10 Feet | $$ | 4 |
| Tesoro Tiger Shark | 200 Feet | $ | 4.5 |
| Fisher CZ21-8 | 250 Feet | $$$ | 4.5 |
VLF Vs PI?
If you make the decision you won't be venturing into the water further than ankle deep, all the best beach devices mentioned within this guide contain a waterproof coil and either Very Low Frequency (VLF) or Pulse Induction (PI) technology.
Saltwater amplifies ground minerals which may cause land based detectors to provide you with false alert signals which can be frustrating, especially for beginners.
Two ways to overcome this are to use a (VLF) device with a ground adjust control which will provide you the option to fine tune the detector and take into consideration the mineralization on the sand, which is a perfect option for those on a smaller budget.
The second option is to buy a device which features PI. The technology ensures the detector simply ignores the minerals, which saves time and expertise having to fine tune it and will allow you to arrive at the beach, unload your kit and start hunting straight away. These devices are generally more expensive but worth the investment if you intend to spend all of your time beach metal detecting.
7 Best Beach Detectors Reviewed
Our Top Rated
Garrett ATX
Using pulse technology and perfect for all terrains (including the beach) the Garrett ATX is perfect for hunting on highly mineralized ground. It operates perfectly underwater to depths of 10-foot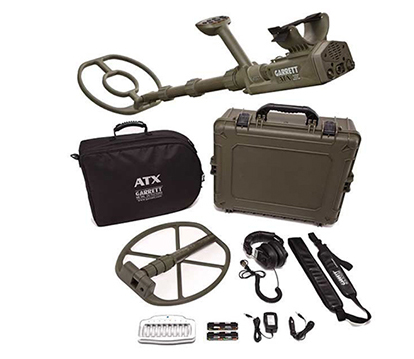 and provides you with maximum detection of all types of targets at the same time.
The machine is fully adjustable and can be used with the stem fully extended, collapsed or somewhere in between. It boasts an LED indicator and external speaker for those that prefer not to wear headphones. The volume control is fully adjustable providing the ability to reduce larger signals in order to hear those that are deeper and more faint.
This bad boy will absolutely guarantee you find things, even on a beach that has been hunted to death by very low frequency devices. We love the fact it is so powerful yet clever enough to work for both beginners and the more experienced.
It will take you roughly 5 minutes to set the beast up, which can be done in 5 simple steps:
1. Set your level of discrimination
2. Select the search mode
3. Adjust the sensitivity levels to your needs
4. Frequency scan
5. Ground balance
Done!
We simply can't provide you with any negatives as to the capabilities as to what can only be described as the very best beach metal detector. The price tag for some will unfortunately be eye watering. If you are just starting out and have no idea whether you are actually going to enjoy the hobby we can't see a reason to spend $2k. The detector is also slightly on the heavy side at 5 pounds, which I found to be a perfect weight personally but others might struggle for longer periods of time
| | |
| --- | --- |
| Pros | Cons |
| Easy to set up | Expensive |
| Just enough options | 5 pounds in weight |
| Works seamlessly on all terrain | |
| Fully waterproof | |
| Amazing capabilities | |
For further information read our full review of the Garrett ATX
Fisher F2
Beginner
The Fisher F2 is a great entry level detector which can be used on dry sand. It features an 8 segment visual target identifier and easy to read LCD screen which is perfect for newbies.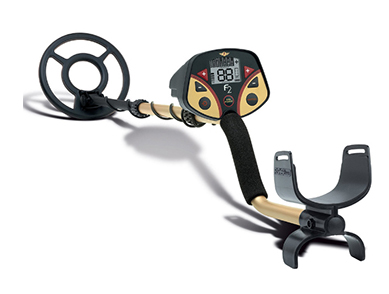 Operation is made simple via the impressive control panel that includes large push buttons to adjust sensitivity and make the device ignore trash and mineralization.
The head of the detector is sealed and although we wouldn't advise taking the F2 under salt water of any depth it's perfect for those hunting on dry sand.
The depth indicator on the Fisher works incredibly well and it would be a great kids metal detector for use on beach holidays.
All in all this is a fantastic machine for beginners. The detectors ability to target even the smallest pieces of metal up to 6 inches deep and it's super lightweight frame make it a device you should seriously consider if it falls within your price range.
We tested the F2 both on dry sand and wet and while we uncovered no problems ourselves we have read of the F2's dislike for moisture from other users, which is far from ideal if you intend to go on wet sand. Another small gripe was there was no strap for the arm brace included in the box.
| | |
| --- | --- |
| Pros | Cons |
| Lightweight | Can react badly to moisture |
| Easy to operate | No strap for arm brace |
| Affordable | |
| Long battery life | |
For further information read our full review of the Fisher F2
Garrett Ace 400
Beginner +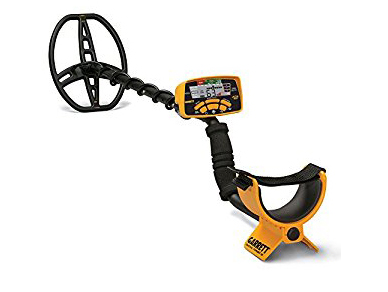 At $365 the Garrett Ace 400 is a perfect entry level detector for use at the shore. It features 5 search modes, digital target ID and a new 10kHz higher frequency level which ensures greater sensitivity on conductivity targets.
The coin depth indicator, which can accurately determine your targets depth works well on the sand and the waterproof search coil is perfectly sufficient for sweeping salt water ankle deep.
The box features all the accessories like headphones and a neat adjustable arm strap and the device can be set up and put to work in minutes. The Ace 400 is a great entry level machine that can be used not only on the beach and in shallow salt water but all types of terrain.
We were a little surprised that the Ace 400 had no option to tweak the ground balance. I've discussed this in great detail with other digger who regularly beach metal detect and they were equally surprised. We came to the conclusion adding this feature would have meant the 400 would have been placed closer to the AT Pro, which Garrett understandably didn't want. It's a negative and something which should be considered.
| | |
| --- | --- |
| Pros | Cons |
| Better than the rest of the Ace's by far | No ground balance tweaking |
| Affordable | Can only be used in water ankle deep |
| Garrett provide excellent customer service | |
| Excellent recovery speed and separation | |
Garrett AT Pro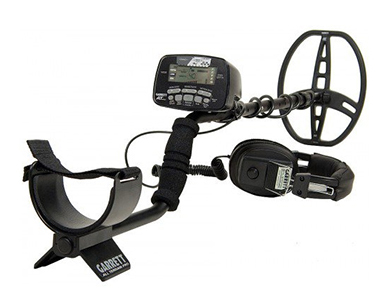 Shallow Water
At a couple hundred more bucks than the Ace 400, the Garrett AT pro makes it's way into our premium list of beach metal detectors. It's a simple to use device with 2 search modes – standard or professional.
We found the AT pro to target well and go deep, we tried it in water (approx 8ft) and again it performed well. Specifications state it can be used in water up to 10 feet.
For the price, the AT pro packs some seriously impressive features and would be perfect for not only beach metal detecting but on other terrains also.
Even after years of experience setting devices up after taking delivery of them, we found the AT Pro a little tricky to set up with the cable connections being on the tight side. We also found the display to be a little on the small side and think it would have benefited from a back-lit screen, even though it's battery life would have been shortened.
| | |
| --- | --- |
| Pros | Cons |
| Impressive pro audio discrimination | Tricky to set up |
| Targets well | Small display |
| Deep capabilities | No back lit screen |
| Works well both underwater and on land | |
XP Deus
Expert Level
The XP Deus is a seriously impressive piece of kit, which would be suited to the more experienced or beginners willing to invest a serious chunk of change into their hobby and spend the time to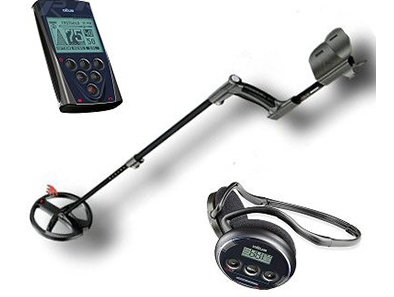 learn how to operate it properly
It's fully wireless, extremely light at just 2 pounds and features a collapsible stern and shaft which makes it easy to carry in a backpack or suitcase when your headed to the beach!
The 11 inch double d coil can cover an amazing amount of ground quickly and owners can keep the Deus up to date with all the latest programming features via their PC – you really do get what you pay for with this beauty.
We were amazed at the sheer comfort of the device, you could literally hunt for days on end if the battery life allowed it.
The only downside we can see is the steep learning curve the device brings. You will need to learn, test, learn some more and test. This device has amazing capabilities but will take time to understand and put them all to good use.
| | |
| --- | --- |
| Pros | Cons |
| Sensitive | Expensive |
| Lightweight | Steep learning curve |
| Comfort | |
Underwater Metal Detectors For Diving
If you have decided you will be venturing a little deeper you will need to consider an underwater or fully waterproof detector which are perfect for shallow waters and snorkeling, typically to depths of up to 10 feet. Any deeper than this and you will need a detector which is fully pressurized:
Tesoro Tiger Shark
Land & Diving
The Tesoro Tiger Shark is a great metal detector perfect for beach use and waterproof up to 200 feet. It's hip mountable for diving, featuring a removable center pole which means you don't have to fork out for an additional divers pole. The device features drop in battery design and the choice of either an 8 or 10.5 inch hard wired search coil.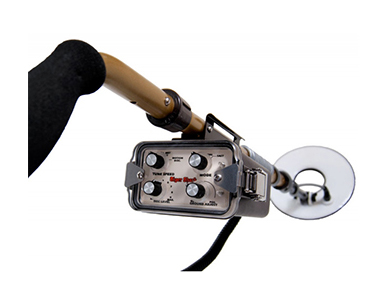 Designed for both fresh and saltwater hunting the Tiger Shark operates like any other Tesoro device on sand yet is versatile and powerful enough to cater for those that like a little deeper diving with their metal detector in tow.
Four controls on the outside will allow you to switch modes from all metal (fast & slow) normal mode, salt and motion discriminate.
It's a very well built unit, which is easy to assemble and comes with the peace of mind that it's guaranteed for life – a great vote of confidence by Tesoro.
When metal detecting on the beach with the Tiger Shark our only gripe was it's tendency to whine and not particularly enjoy the surf. If you intend to use this on a beach with reasonably large waves it's something to consider.
| | |
| --- | --- |
| Pros | Cons |
| Very sensitive – will find the smallest pieces of metal | Tends to squeal when used in the surf |
| Reasonably priced compared with other underwater detectors | |
| Great battery life – 25 to 30 hours of hunting | |
| Perfect on wet salt sand | |
Fisher CZ-21
Land & Diving
The Fisher CZ-21 is a beach metal detector that is equally at home under the salt water as it is on the sand. It can handle depths of up to 250 feet, making it perfect for those that intend to go a little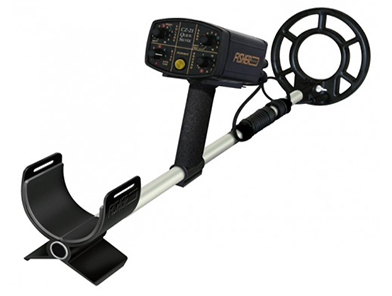 deeper than your average snorkeler. It features a 3-tone audio target ID – low, medium and high with no LED readout to make sense of – features particularly suited to those with less experience.
Ground balancing on this baby is done the old fashioned way by turning a knob by hand, while running the auto tone setting will ensure the Fisher picks up absolutely everything.
We were impressed with it's strong signal response during testing and the lack of extra noise produced, which is clearly evident with other water & land based detectors.
Use this device both deep underwater and on the sand and you are guaranteed to find things. It's the best specialist beach detector money can buy.
The only real negative we can see with the CZ-21 is that the coil and headphones are hard wired, which means the device will need to be sent back to Fisher if you wish to swap out the standard 8″ coil.
| | |
| --- | --- |
| Pros | Cons |
| Built like a tank | Expensive |
| Waterproof to 250 feet | No option to swap out coil yourself |
| Runs stable in saltwater | |
| Easy to use | |
| Brilliant both underwater and on sand | |
Beach Metal Detecting FAQ
Should I Buy New Or Used?
We always advise to buy new if your budget allows it. While there is no doubt you can find some great second hand beach detectors, it can be lottery if you don't know what you are looking for and comes with risk.
Buying new ensures you receive at the very least a 2 year warranty and peace of mind that if the device starts malfunctioning you can simply replace or get it fixed free of charge.
What Can I Expect To Find?
The beaches are littered with rings, bracelets earrings, chains and other jewelry. It's a well known fact that the salt water shrinks the skin, causing jewelry to fall off. Personally I find nothing more rewarding than returning an engagement ring for example to it's owner, but each to their own. Tracking people down is often difficult and there is often nothing more to do than keep the bling!
Make Sure You Buy The Correct Beach Detector For Your Needs
We have tried to make things simple with our reviews and recommendations above. It's important you fully understand each detectors waterproof and underwater capabilities based on your intended use. While all of the above devices work on dry sand and the majority well on wet, they aren't all fully waterproof. Diving deeper is another matter, you will need a device that can handle 150 – 200 ft depth which are always more expensive.
Can These Devices Be Used Away From The Beach?
The majority work absolutely fine on other terrains. Our top pick of the ATX is an all round beast which comes highly recommended. Fully waterproof, simple to use and excellent capabilities on all types of land.
Do I Need A Beach Permit?
Very unlikely. The beaches in the US are generally public owned which means you will need no permit. If you decide to venture inland anything that is national like a park will likely need permission or possible payment for a permit via a ranger.
Beach Metal Detecting Videos
Would be great to hear your thoughts on the best beach metal detectors mentioned? Maybe you would recommend something completely different?
As always GL & HH!