Ready to spend your hard earned cash on the best underwater metal detector?
Before we even get into discussing and reviewing the underwater detectors themselves it's important you understand this device will be a sizable investment, often costing upwards of $1,000. The detectors are generally pro level, so if you are a newbie it might be an idea to consider an entry level machine and digging on a different terrain.
Underwater metal detecting can be undertaken with two types of technology:
(VLF) Very Low Frequency metal detectors
These detectors operate within the 3 to 30 KHZ frequency range and are sensitive to a variety of precious metals. VLF devices have the ability to recognize the good from the bad and have the functionality to adjust the sensitivity.
(PI) Pulse Induction Underwater Metal Detectors
Transmitting electronic pulses to the ground PI underwater metal detectors are highly sensitive to coins, jewelry and relics but yet not affected by ground minerals or wet sand. These devices are perfect for beaches and diving.
6 Of The Best Undersea & Submerged Metal Detectors Reviewed
Minelab Excalibur II 1000 Underwater Metal Detector
There's only 1 way to describe the Minelab Excalibur 2 1000 Garden in this review – it rocks! Although the device isn't cheap at $1500 the Exacalibur will pay for itself (often after only a few weeks) if you are experienced and know where to dig.
Fully amphibious the detector can move from beach, land, wet conditions and of course be immersed to depths of up to 200ft (66m) easily.
It boasts a brand new high visibility fluorescent bodywork and is powered by a nickel metal hydride battery pack, ensuring a long lasting dig each and every time.
The slimline, lightweight coil pack ensures maneuvering this baby in any condition is easy, while the impressive signal response means you will never receive a false alarm when detecting in salt water.
The Excalibur 2 has been manufactured with Receive Coil Boost (RCB) which results in target signals being amplified.
As with all metal detectors it's inevitable you will dig up some trash, however the Minelab provides the ability to minimize this.
Whether you are working at a depth of 200ft undersea on a wreck, digging on the beach or simply wading the Minelab Excalibur 2 1000 Garden is one of the very best metal detectors for use under water on the market today.
---
Garrett Sea Hunter MK-II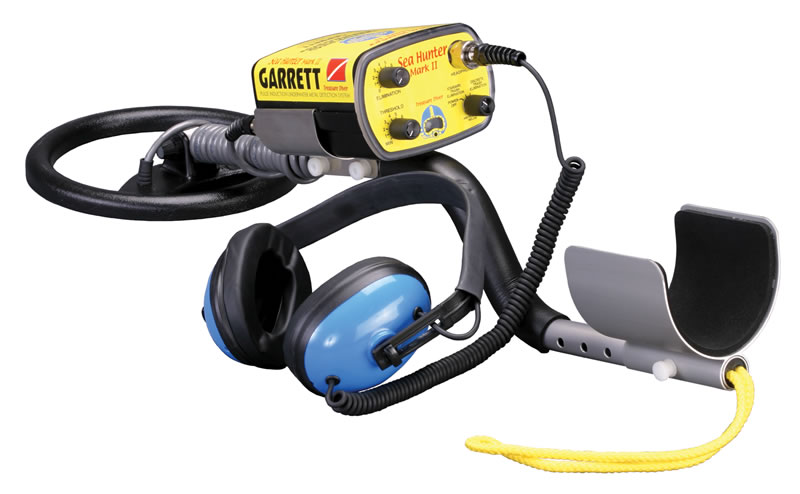 Perfect for use both immersed or on the beach via it's long stem configuration, the Garrett Sea Hunter MK II is the perfect subaquatic metal detector, as we are about to explain in this review.
This detector is fully submersible and it's design allows for four different configurations:
Long – With a hip attachment of the ScubaMate box
Long – SubaMate attached under cuff
Long – The mate attached at the top
Short – Configuration for diving with the Garrett Sea Hunter
Headphones are included with the device as are handy straps that allow you to attach to a variety of different wet suits, both of which make swinging the coil back and forth far less strenuous than you would find with other waterproof metal detectors.
---
Garrett Infinium LS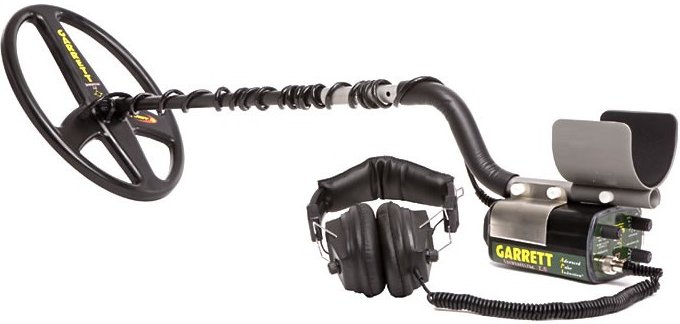 The Garrett Infinium is one of the best metal detectors money can buy for both land and subaqueous digging. As with most devices in the waterproof category it really isn't a machine for beginners, with many buyers stating the learning curve was steep. However once up and running, reports of it's accuracy and general reliability over a number of different terrains and underwater is second to none.
This fully waterproof device works seamlessly in depths of up to 200ft and boasts a 0"*14" DD fully submersible search coil. The box also contains a handy instructional DVD video, which we think is a nice touch and a feature that should be present within other devices in this category.
The Garrett uses PI technology and can determine the difference between good and bad alerting it's user what to start digging for.
While the device is far from ground breaking it does offer a technology that could be classed as a "new kind of metal detector" with it's features and reliability making it perfect for underwater diving, nugget prospecting and beach hunts.
---
Fisher 1280-X Aquanaut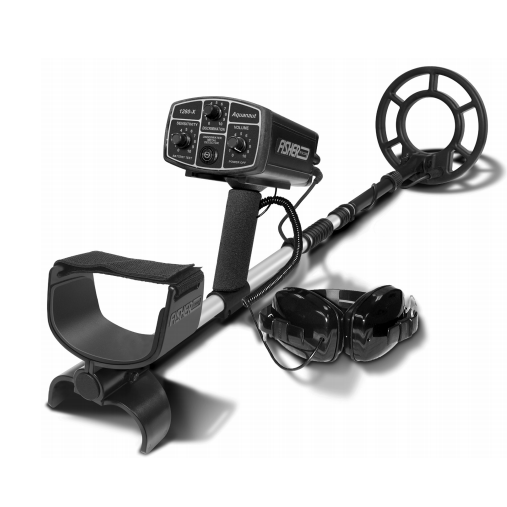 Featuring 3 automatic settings for use on land, salt and fresh water the Fisher 1280 is perfect for helping diggers cover more ground both underwater and on land.
It can handle depths of up to 250 feet and has a battery life of 75 hours which provides plenty of time to find some serious bling!
Ignoring small pieces of trash via the trash rejection control the detector converts to a belt mount, with the impressive waterproof headphones included as standard.
Priced at well below $1,000 this is one top rated underwater detector you should seriously consider if you are looking for a device that has the capabilities to provide you with that "good find" but yet won't involve months and months of overtime at work in order to be able to afford the experience.
---
Tesoro Tiger Shark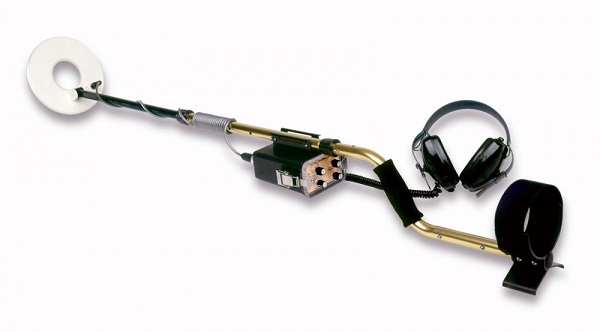 The Tesoro Tiger Shark could only be described as a true land and water detector, made possible by it's microprocessor technology. Perfect for gold prospecting, relic hunting and the coinshooters among you, this versatile device adapts brilliantly and could only be described as a beast under the water.
It can work in depths of up to 200ft and boast four control settings, which means you can easily adjust it to handle all types of conditions and terrains.
At just $650 and the turn and go simplicity this device offers, this really is the closest device you could accurately define as newbie friendly.
Designed and engineered for both salt and fresh water hunting, this is one of very few waterproof devices that has the capability to detect gold chains under the water.
The drop in battery, headphones and removable pole all included as standard, make the Tiger Shark a cat like fish you should seriously consider in your search for the very best device which will suit your needs.
---
Garret AT Pro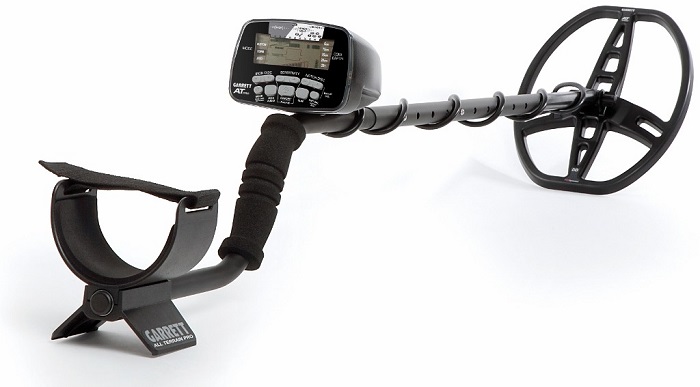 We reviewed the Garrett AT Pro in depth a couple of months ago, mainly because we simply love this device. Although the device has been made for land it's versatile and powerful enough to be submerged and work well under the water.
With the ability to bring hunted out sites back to life and leave gawkers wondering "how the hell did they uncover that", the AT Pro is a special device.
You can select from professional or standard search modes and make use of it's waterproof housing primarily included for humid, dusty and wet conditions but yet providing diggers the ability to submerge up to an impressive 10 foot depth.
Electronic pinpointing, accept/reject discrimination and customized search modes make finding coins, relics and other targets ridiculously easy, even for the newbies out there.
---
A Word Of Advice
It's important you do your homework when buying a device you wish to take underwater. While many manufacturers and retailers will advertise the device as fully waterproof they sometime aren't and tend to be only semi-waterproof at best.
This will generally mean that although the detector contains a waterproof coating, the components that comprise the device can only withstand very shallow water depths and aren't suitable for diving or digging at sea.
Selecting the best type of device for your needs is also a very important factor. You need to consider where you intend to use the unit – salt water or fresh? and also if you intend to use the same device on land or whether you have a separate detector for this purpose?
Depth is also an issue and if diving you should consider how deep you intend to go. For snorkeling you should check to see if the device comes with a short dive pole as standard as many do, remember failing to purchase a metal detector for use underwater without all the necessary extras and accessories can prove costly long term.
GL & HH