Looking to spend you hard earned cash on the best pinpointers for metal detecting?
Before we start taking a closer look and comparing the very best pin pointers money can buy, we thought it important to firstly explain what this device does, especially for the newbies among you.
After doing a little research and forking out a few hundred bucks on what you think is one of the best metal detectors, you set off on your first hunt excited and full of anticipation. After a few hours digging in a field you realize that locating targets with your detector is only part of the game, the other part is retrieving the bling and other treasure from the ground, which is where the pinpointers for metal detecting come into play.
Instead of having to dig a hole the size of a small village in order to locate the target, you simply insert the device into the hole in order to pinpoint your find. The device will not only increase the speed of recoveries, but also reduce the chance of you damaging your find during recovery – no digger enjoys a heartbreaker.
Although some metal detectors have built in pinpointers, many don't which is the reason we thought it would be handy to provide our readers with some metal detector pinpointer reviews.
Pinpointer Overview
The devices in question are generally small and light. They are a completely separate device to your metal detector, which means they can be used with any make, model or type. The pinpointer requires no assembly which makes it generally easy to use and when held in close proximity to a metal object will adjust it's noise accordingly dependent on it's proximity.
As with all metal detecting equipment, the reliability and durability will often depend on the amount of money you spend on the device. A cheap pinpointer may be pretty noisy and get damaged, where as a better model will be more durable and be able to withstand being dropped down some pretty deep craters.
5 Metal Detector Pinpointer Reviews
Garrett Pro Pointer AT Waterproof Pinpointing Metal Detctor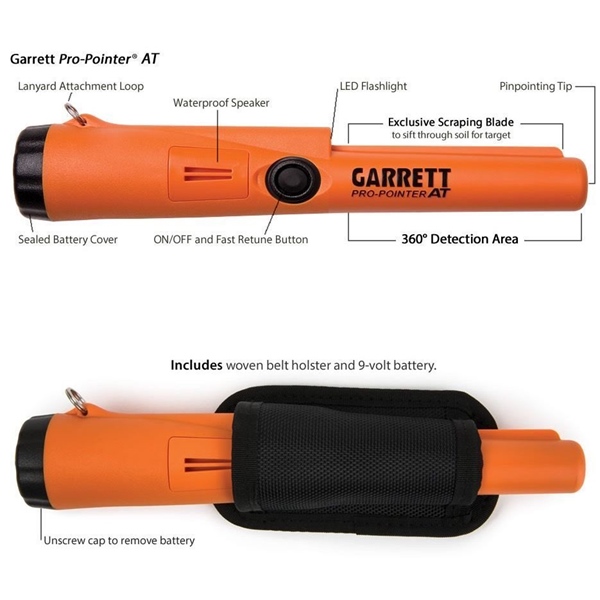 Garrett finally added all the features users of a Garrett pinpointer had been waiting for with this powerful bit of kit. A disable feature for audible, easy to see, fully waterproof and that adjustable sensitivity are features that get me a little bit more excited than I should!
Absolutely perfect for beginners and coming with a very hand belt holster, it's a sturdy well built device, that will reduce finding an uncovered target by more than half the time.
Say goodbye to hits you annoyingly can't find with a pinpointer that is highly sensitive and can find targets that are very deep.
It comes with a generous 2 year warranty and very handy control that allows you to silence it and use vibration mode only – like we said even the very best pinpointer metal detectors can be ridiculously loud.
The device is very simple to use, you press the button once to find the target and then to get a little more precise on the tip a second time. All in all this is one of the best pinpointer metal detectors we have have the pleasure of reviewing.
---
Nokta Pointer Pinpointer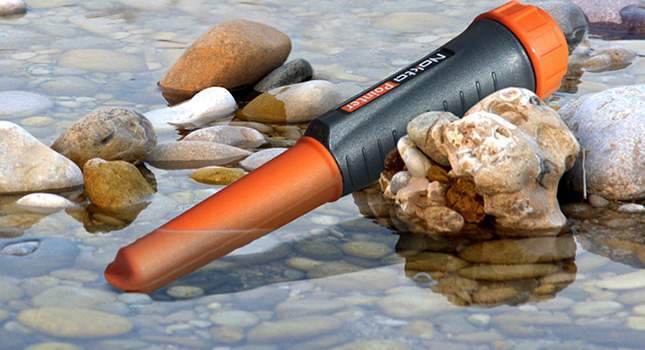 The Nokta is the perfect device for diggers who search in and around water. Its fully waterproof and can be submerged to depths of 1 meter for 30 minutes. Although it's highly sensitive on the highest setting, it can be turned down a notch or two and still work seamlessly.
While at a price tag of $150 the pinpointer couldn't really be classed as cheap, more reasonably priced. With battery life up to an impressive 30 hours and target alert options which include audio, vibration and combination of both this is a device any digger should seriously consider.
---
Vibra-King Pinpointer Detector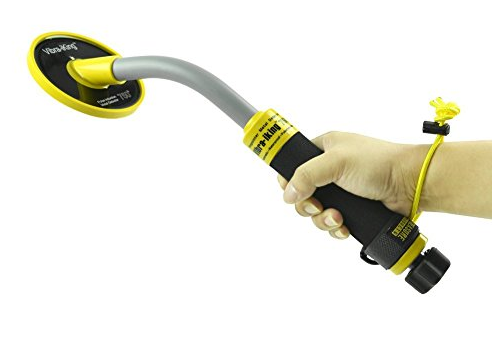 The Vibra-King is a pinpointer detector we have been desperate to get our hands on and review. A feature we immediately liked was it's ability to communicate with vibration and light only – no annoying loud noises! No push button switches on this device either but instead a tilt on/off system that reduces the risk of external switches breaking, a very nice feature in our humble opinion.
The Vibra-King is perfect for both newbies and more experienced diggers among you, and utilizes PI technology and is fully waterproof up to depths of 100 ft. It's bright yellow appearance makes loosing this metal detecting pinpointer even difficult for the most careless among us (which is probably me!).
---
FTPPINP – Pinpointer By Bounty Hunter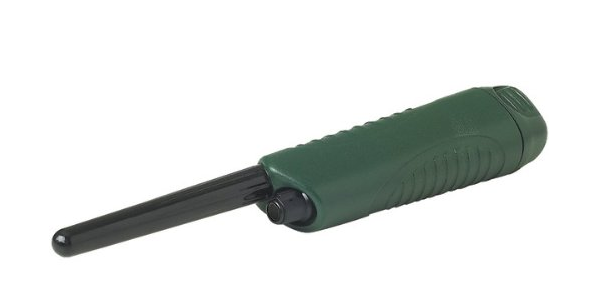 At the cheaper end of the spectrum the Bounty Hunter pinpointer raises doubts among diggers as to whether it can really compete with more expensive devices and deliver. The answer is it most definitely can and proves you don't need to spend a fortune to get your hands on one of the best pinpointer metal detectors available. Lightweight, simple to use and easy to clean, the device alerts you to targets with a sound that's not particularly irritating compared to many.
We found the device to activate at about 1/2 inch for smaller targets like jewelry, gold and coins and 3/4 inch for larger objects.
All in all we liked the device alot and for a beginner that has blown their cash on their entry level metal detector it's a cheaper option that will increase the time spent on recovery each and every time.
---
Deteknix PINPOINTER Probe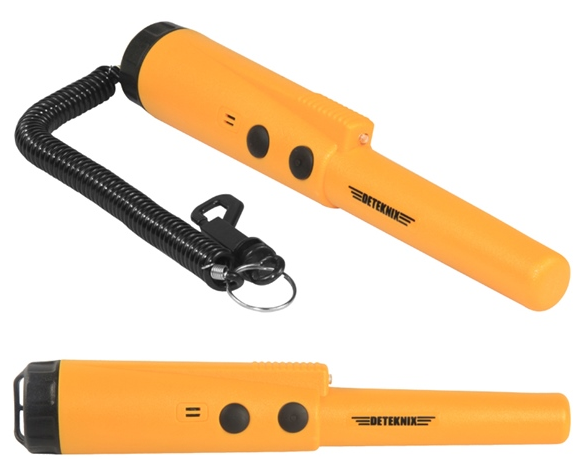 If you take just one thing from this pinpointer metal detector review, it should be the devices ability for getting an exact location of signals – the accuracy is simply second to none.
Although the Deteknix may feel a little flimsy compared to other pinpointers it's ability to detect targets in particular silver and copper is very impressive indeed.
It's lightweight at just 240g and comes with a holster included. Although the dust probe is waterproof this device can not be classed as an underwater metal detector as the whole unit cannot be submerged.
---
Pinpointer Metal Detector Video Reviews
Metal Detecting Pinpointer Useful Buying Guide
As with your main piece of kit it's important you consider where you are going to be using the pinpointer. If you hunt on your local beach regularly you are obviously going to need a detector that is fully waterproof. You should also consider the target response features of the device. As we said earlier many of even the best pinpointers alert their users by a rather annoying audio response, while other utilize a more subtle vibration or light indicator feature. As with most things it's just a matter of choice, but something which should be considered nonetheless.
The pinpointer for metal detecting is one of the best tools in your arsenal and compliments any metal detector perfectly. It is proven to drastically reduce recovery time, providing the opportunity for diggers to move onto their next target and cover far more ground when TH'ing.
GL & HH