Fisher Gold Bug 2 Metal Detector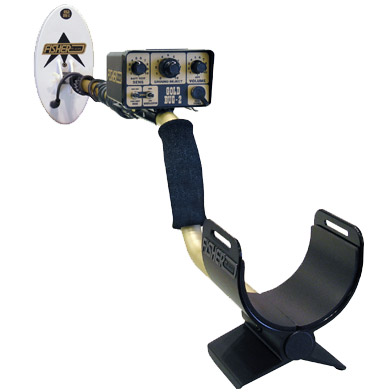 Often touted as great for beginners and advanced users alike, Fisher Metal Detectors released the first Fisher Gold Bug 2 in 1995, and production continues even through today. In this Fisher Gold Bug review, we'll look at features and highlights. This detector specializes in finding small gold pieces in rocks, even wire or sponge pieces. This particular detector is quintessential for the person who prefers the "scrape and detect" method. The Gold Bug 2 and its concentric coils (6 or 10 inches) are not susceptible to false signals due to knocks and bumps, which potentially explains much of its enduring popularity. It remains one of the most popular lightweight gold detectors on the market.
This machine is perfect for searching for gold flakes or nuggets, though for deeper targets you may want to pair it with another detector or run multiple sweeps. The iron discrimination setting on the Gold Bug 2 is difficult to beat. You can even adjust some of the settings with this setting on or off to adjust the signals. The audio settings can go low, medium, or high. High sensitivity increases the pitch as the size increases, though the volume settings can easily offset that.
Even with its high frequency settings, the Fisher Gold Bug 2 retains much of its sensitivity in rougher landscapes. Furthermore, its compact size and removable control box make this device much more adaptable and capable in a variety of situations, without much strain on the arms. The Gold Bug 2 is highly specialized for gold detection, and to this day, it remains one of the strongest small gold detectors on the market.
| | |
| --- | --- |
| Dimensions: | 21.4 x 12.3 x 5.7 inches |
| Weight: | 2.9 lbs (with the 10 inch coil) |
| Waterproof: | Waterproof coil |
| Users Manual: | Yes |
| Targeting Depth: | Up to 11 inches |
| Power Source: | 2 9-volt batteries |
| Headphones: | Not included |
| Discrimination: | 3 modes |
| Pinpointing: | No |
| Coil: | 6.5 inches or 10 inches |
The Good
Extreme sensitivity to even the smallest gold nuggets, wires, or sponges
Lightweight even with its larger coil
Removable control box, for deeper water environments
Less weight means less strain on the arms over time
Equipped with an iron discrimination mode
Hip, shaft, and chest mounts for versatile searches and set ups
Operating time of 25-35 hours with two 9 volt batteries
Audio boost settings for even more sensitive signals
Incredibly useful for small jewelry searches
High frequency of 71 kHz
The Not So Good
Iron discrimination mode can reject gold if ground is overly mineralized
Almost solely used for gold nuggets
Has poor depth on larger gold nuggets
Can produce strong or overwhelming responses on wet salt sand
Fisher Gold Bug 2 Performance and Design Review
This device is lightweight and sleek, with a curved base to account for its (removable) control box. The adaptability and versatility of this detector make it a great option for smaller spaces and specific search points. It can be easily transported, and it is very compact but tough.
The machine is gold, black, and gray. Its narrow design makes it comfortable to hold for long spans of time. Its compact but robust configuration lends itself well to its intended purpose (to find small gold pieces and nuggets). However, for larger pieces, this machine should probably be paired with a larger device. There is also a larger coil (14 inches) available for purchase separately.
The functions and controls are fantastic in their simplicity. All switches and buttons are designed in such a way that this machine would be incredibly straightforward for beginners to learn.
Hardware Review
Sitting at 40 inches (collapsed) to 56 inches (extended), the Gold Bug 2 is light and sleek, with a weight of only 2.9 pounds with its 10-inch coils. The standard package includes a 5-year warranty from one of the longest running and most trusted brands in this business, Fisher Metal Detectors.
The Fisher Gold Bug 2 usually comes with the 5 year warranty, the 6.5 inch and 10 inch coils, and two 9 Volt batteries. There are also optional accessories available, such as a carrying bag, a 14-inch coil, a chest harness, and headphones.
The 10-inch coil seems to be the preferred option. The battery life means the machine can last up to 35 hours, and its light weight makes it ideal for extended searches that will not wear out your arms.
Fisher GB2 Video Reviews
Final Word
This compact and enduring machine is one of the leaders amongst gold hunters for a reason.
Its size, versatility, and high frequency sensitivity make it a prevailing choice from a trusted metal detector brand. This product comes from a brand that has worked tirelessly to perfect their design and the function of their devices in order to create the ideal machine for gold prospecting, especially for smaller pieces and jewelry.
It's a relatively affordable choice in the metal detector market, so the Fisher Gold Bug 2 is a fantastic choice for pros and beginners alike!
As always GL & HH