Whites GMT Metal Detector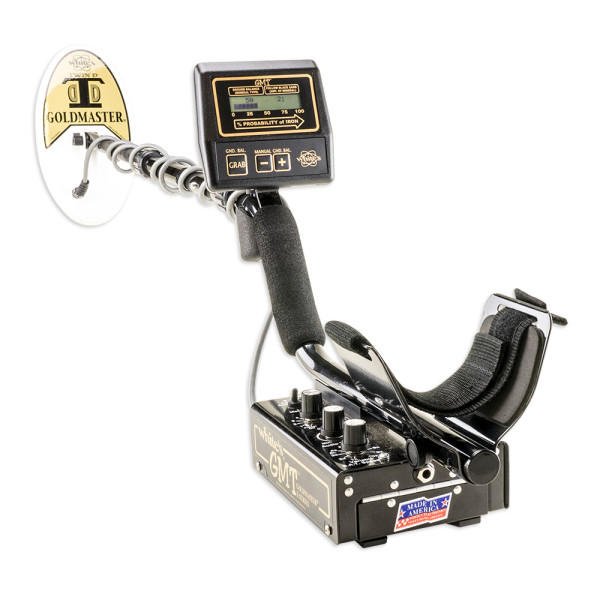 When it comes to metal detectors, not all detectors are made the same, and not all of them will help you strike gold. The GMT metal detector is made specifically for use in gold bearing areas. This detector is capable of ignoring the harsh ground conditions that gold is often found in. It operates at 48 KHz, the ideal frequency for gold prospecting, and is capable of finding even the smallest nuggets.
This affordable metal detector has special features such as a waterproof coil and automatic ground balancing, making it both efficient and easy to use. The GMT also boasts some high-end features such as an "iron target analyzer" and "Follow the Paystreak" which are designed to make hunting for gold much easier with this machine.
Often, gold prospecting is very difficult because of the mineral-rich nature of the ground in which gold is found. The mineral-rich earth can lead to inaccurate readings with metal detectors that are not up to par. But as the GMT is built specifically to detect gold, it is designed to be able to ignore the earth conditions that will often throw off other metal detectors.
This is also an incredibly beginner-friendly machine, with features such as AutoTrac which tracks the changing conditions of the minerals in the ground as you hunt, and automatic ground balancing. This machine is designed so that users can turn it on, press a few buttons, and begin hunting without having to balance the machine if they so choose.
| | |
| --- | --- |
| Dimensions: | 46-51" adjustable length |
| Weight: | 4.2 lbs |
| Waterproof: | Yes |
| Users Manual: | Yes, download online |
| Coil: | 6"x9" DD search, eliptical |
| Power Source: | AA and rechargeable |
| Audio | Speaker & ¼" Headphones |
| Discrimination: | No |
| Pinpointing: | Yes |
The Good
Intuitive interface makes it easy for beginners to use
Waterproof coil allows for prospecting in bodies of water
Lightweight- under 5lbs
Automatic ground balancing makes for easy set-up
Affordable
Operates at 48 KHz, the optimal frequency for gold prospecting
2 year warranty
Black sand tracking function allows users to find gold deposits in areas with heavily concentrated black sand
LCD screen is easy to read
AutoTrac feature tracks the condition of the ground as you search
The Not So Good
Has weak pinpointing technology
Designed specifically for gold prospecting, making it difficult to find coins and artifacts
Whites GMT Metal Detector Performance and Design Review
The GMT Metal Detector is a highly efficient machine for gold prospecting. For its price point, this machine is one of the best at what it does. It is sleek, lightweight, and incredibly high-quality, especially when considering that this metal detector is really affordable.
The detector is really sleek looking. It brings a classic twist to modern metal detecting. It has a black, glossy design with gold embossing. The arm pad on the GMT is snug, comfortable, and adjustable. The machine is incredibly lightweight, weighing at just under 5lbs, making it a perfectly functional machine for people of all shapes and sizes.
Although not backlit, the LCD display is clear and easy to read, and all-in-all, the interface is user-friendly and great for beginners.
The biggest complaint about the GMT is its weak pinpointing system. It is more difficult for gold prospecting metal detectors to have a highly specific pinpointing system simply because of the size in which most gold nuggets come. The GMT will pinpoint a general area through which users must dig and sift in order to find the gold that was detected.
White's GMT Instruction Videos & Review
Hardware Review
The Whites GMT Metal Detector is often touted as being one of the most user-friendly metal detectors on the market, especially for beginners. Functions such as AutoTrac and automatic ground balancing vastly shorten the learning curve for those just beginning in gold prospecting with a metal detector.
This machine is lightweight and has an adjustable length and arm pad, making this suitable for users of varying heights, weights, and abilities. With the adjustable length feature, the metal detector can be anywhere between 46 and 51 inches long.
The GMT takes 8 AA Alkaline batteries, and while there is no rechargeable option for the detector itself, it is possible to purchase rechargeable batteries for use with the detector.
When purchased from Whites, the detector comes with a 2-year warranty and includes the following:
The GMT Metal Detector
6×9" DD Waterproof Search Coil
Speaker Cover Decal
Stand
Instructional DVD
8 AA Battery Holder
The default 6×9" DD coil works best for this model and is the only one recommended for use.
Final Word
Overall, the Whites GMT Metal Detector has received many a raving Whites GMT Metal Detector review from most who have used it. This metal detector is high-quality for its price range and has given plenty of users some really impressive results.
With its lightweight design, adjustable features, and understandable interface it is a great machine for everyone.
This detector is designed specifically for gold prospecting, which can often be a rather difficult form of metal detection.
However, the GMT makes this often difficult process a rather simple one with its auto features and simple interface.
This is a great machine for those who are hoping to learn how to use a metal detector, as it is an affordable machine that comes with a comprehensive and helpful instructional DVD.
Whether you are a beginner or a seasoned veteran looking for a great deal on a well-functioning machine, the GMT is a great choice.
Please leave your questions / thoughts in the comment section below.
As always GL & HH