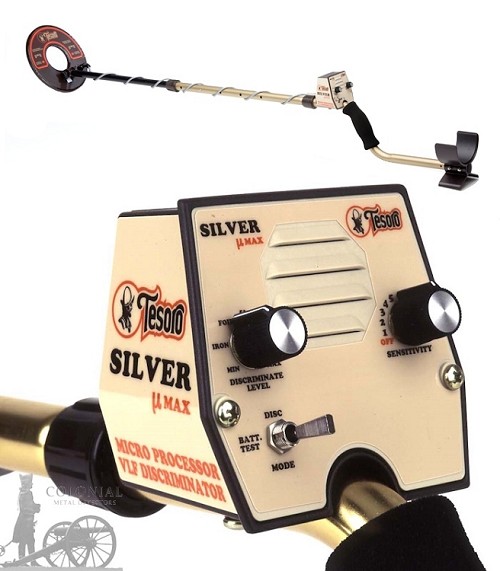 The ultimate adventure is one that brings the explorers to locations unforeseen. Along these travels, someone may be in search of treasures lost through time.
These treasures may be old lockets sunken into decades of sand, or maybe coins that fell through crevices of a cave centuries ago. Finding little metal trinkets can be a fascinating experience that make for an excellent story.
In order to find these interesting objects, it is best to be equipped for the mission. One of the most important tools to have on these scavenger hunts is the metal detector. Not all metal detectors are made equal, though. At the Metal Detector List, we're here to give you the run down on the best metal detectors, and sometimes the worst. Our metal detector in the spotlight right now is the Tesoro Silver Umax metal detector.
This model is one of the top rated metal detector options on websites that allow users to post reviews, like Amazon.
Umax Specifications Review
To give you an idea of what this device has to offer, this is the full list of specifications for this device. This will provide all of the technical information that could make or break your decision when you decide to take the plunge and purchase a metal detector for yourself. The Tesoro Silver Umax has quite the résumé and we think it makes a great fit for people new to the world of metal detecting.
| | |
| --- | --- |
| Operating Frequency: | 10.6 kHz |
| Searchcoil Type: | Round, open center concentric |
| Searchcoil Size: | 8″ diameter |
| Searchcoil Family: | Epsilon |
| Cable Length: | Approx. 3' |
| Audio Frequency: | Approx. 630 Hz |
| Audio Output: | 1½" headphone and speaker jack |
| Compatibility with Headphones: | ¼" stereo plug |
| Weight (may vary slightly): | 2.2 lbs |
| Battery Requirement: | One 9 volt DC (alkaline) |
| Battery Life (typical): | 10 to 20 hours |
| Optimum Temperature Range: | 30° to 100° F |
| Optimum Humidity: | 1½" headphone and speaker jack |
| Audio Output: | 0 to 75% R.H |
| Operating Modes: | Silent Search Discriminate, Silent Search All Metal |
The Good
Lightweight (Just over three pounds)
Can detect objects past nine inches
Good for beginners with pinpointing technology
Easy to lock onto targets
Affordable
Quality built metal detector made in USA
Lifetime warranty – for real!
Microprocessor Technology
Silent Search Discriminate Mode
Silent Search All Metal Mode
The Not So Good
Learning curve to filter through trash
Attention to detail when storing device
No variation of tone for different objects
Performance & Design
Maintenance is extremely important when it comes to keeping your Tesoro Silver Umax in quality condition. Avoid keeping it in places with high heat like the trunk of a car.
It is best to avoid using it during the rain and it should not be submerged completely in water. When putting the detector away for storage, remove the batteries, as they may leak.
It is strongly advised not to spray the device with any lubricants or cleaning products.
Because the design includes a headphone jack, it is a good idea to make use of this fun feature. This allows the user to connect their own headphones and cut out background noise such as traffic, or wind.
This can be helpful in places where there will be quite a bit of conversation as well.
One of the neat features of this device is its capability to reject minerals. You won't find yourself being notified for simple little clusters of rocks.
Due to its low noise circuitry, this device operates quietly. The metal detector only requires one drop-in 9V battery for easy set up. The 8" coil can be used underwater, even in saltwater. This makes all sorts of adventures possible.
Who knows what you might find at the beach, or in a pond even. To top it off, the ten to twelve-hour battery life allows for a full day of treasure hunting!
Tesoro Detector Video Guides
Umax Metal Detector Hardware Review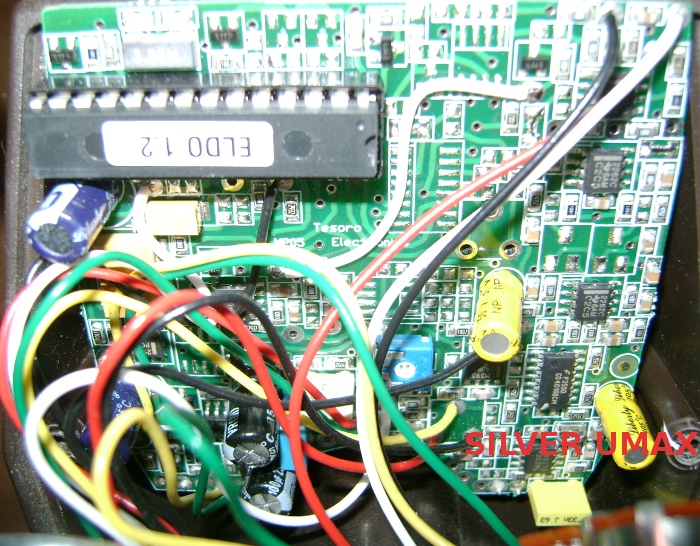 A lot of users love this detector's lightweight and ease of use. The coils make for underwater findings and reaching depths of about 9 inches. This device features a plastic faceplate as well.
Final Word
This product is a great option for beginner to moderately experienced people. It is lightweight, compact, and battery operated. This is perfect for spontaneous trips, especially to the beach. The only true downside results in the lack of difference in the tones that different objects will produce.
Aside from that, and having to take careful care of this device, the Tesoro Silver Umax does well.
This is a top rated metal detector, available at an affordable price. Anyone using this is sure to find it to come naturally and will love its headphone jack capability.
Whether it is a younger child or someone who is hard of hearing, that can really come in handy. The Tesoro Silver Umax reviews from users are full of mostly great comments from happy customers.
We hope this helps in your search for a trustworthy metal detector that stands against the test of time.
As always GL & HH