The Minelab X-Terra 305 is the entry level detector in the Minelab X-terra Series. Quality metal-detecting features and hardware at an affordable price range – this model is specifically designed for the metal-detecting enthusiast who does not want or need a top of the range machine. It is light-weight and simple to use; this coin and treasure-finding detector is an ideal choice for most hobbyists. When value for money is paramount, the X-Terra 305 is the top of its class.
X-Terra Overview
And as if its affordability wasn't already enough, this model also sports great accessibility for any aspiring metal-detecting enthusiast, be it adult or budding youngsters. The X-terra 305 is very much suitable for the whole family; for enthusiastic young metal-detectors, it comes with a special short shaft to more easily accommodate their physical needs.
As for its build and design, the model is compact and ultra-lightweight. However, don't let its appearance fool you – its light frame makes no compromise on its overall performance or build quality. The Minelab X-Terra 305 was specifically engineered to be an innovative and forward-thinking design and to use only the very latest, top-of-the-line digital parts. This also holds true for the whole X-Terra Series by Minelab.
As mentioned before, the Minelab X-Terra 305 is an entry model for the X-Terra Series. However, don't let its new design fool you. If you attach a good double D coil on the end of it, you'll see that it easily outperforms almost any other entry model out there. Minelab has a wide range of different coils that can be used for different conditions.
Some may find that Minelab metal detectors are infamous for being quite pricey, but rest assured, the Minelab brand is also extremely well respected and well known in the industry as a time-tested and trustworthy institution.
Minelab X-Terra 305 Design & Hardware
The X-Terra 305 finish is a rich, dark red. It has stylish black trims and has components, including its arm rest, in a similar shade of black. It's featured to be waterproof for depths up to 1 meter. Like most other Minelab metal detector bundles, purchasing this model comes with a free standard issue search coil. It does not, however, include batteries or headphones, both of which are procured anyway.
The built-in display is undeniably crisp and clear and is without a doubt one of the more valuable design aspects of this machine. Additionally, the controls are simple and straight-forward, yet undeniably effective.
Its physical measurement have it with a length of 56 inches (1.42 m) and a weight of 2.9 lbs (1.3 kgs).
In a radical move that sets it apart from its competitors and even other Minelab models and series, the X-Terra 305 employs a unique inverted design. The control boxes of most other detectors are commonly mounted below the S-curve of the frame. The control box of the Minelab X-Terra 305, however, is mounted atop its grip, which independently extends from its main shaft. This clever design move makes it so that the metal detector's weight distribution is shifted – the result is much less pressure on the user's wrist and a lot more stabilization with the utilization of the arm. This frees up your hand for better control and has your forearm do most of the lifting. This easy-to-lift design choice along with its light weight makes the X-Terra 305 a pleasure to use on long and dragging treasure hunts.
Additionally, like most other Minelab metal detectors, this model comes with a 3-year manufacturer's warranty.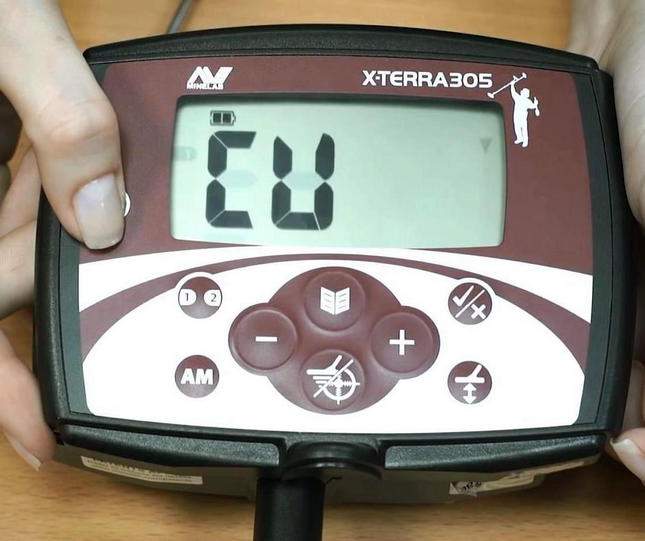 The X-Terra's Features
Minelab has jam-packed its X-Terra 305 with a myriad of features and functions. This beginner all-purpose metal detector not only has clean look but also has simple and easy controls. It does, however, lack a graphic target ID, so if you're a newcomer to detecting, make sure to familiarize yourself with those numeric identifiers so you can pick between metals. The X-Terra 305 also has amazing accuracy and offers some unique takes on audible targeting, making the initial learning curve worth it.
Aside from the much missed target ID which is replaced with audio patterns and cues, all the features you'd want in a top-of-the-line detector are present. It has a pinpoint mode with that lets you easily filter out any unwanted background interference, regardless of the ground condition. Its depth indicator is graphical rather than numeric so it might not be particularly helpful. On the plus side, it's worth noting that its 10" concentric search coil can penetrate up to 10" deep. There will be situation where you don't know how far you have to dig for a desired target but at least you'll know its general location.
The Minelab X-Terra 305 also has two features that are unique to it: coil-dependent operating frequencies and a multi-tone audio targeting function.
Coil-dependent operating frequency is a unique feature exclusive to Minelab's designed VLF scanning mechanism (VFLEX). It makes it so that the metal detector can operate at a specified frequency depending on the type of coil attached to it. This is opposed to it operating based on the built-in electronics and circuitry within the detector's control box. Now, this customizable feature would require you to purchase additional coils – which could get a bit pricey – but the option to use alternative frequencies based on interchangeable parts is a nifty little feature that give this product a lot of added value.
Multi-tone targeting makes it so that different patterns and combinations of the detector's three audio tones sound out for different targets. To a less effective degree, this somewhat makes up for the lack of a graphic target ID on the device. Of course, you'll still need to learn the audio patterns, but after familiarizing yourself with the combinations, you'll barely have to check the screen.
PROS
The Minelab X-Terra 305 has amazing features such as multi-frequency coils and multi-tone targeting that are unique to this model.
CONS
It lacks a graphic target ID and beginner enthusiasts might have a difficult time trying to decipher the machine's readings and audio tones.
X-Terra 305 Video Reviews
Final Word
Are there better metal detectors out there? Certainly so. But the Minelab X-Terra 305 finds a niche in combining much-appreciated comfort with useful extra features that really make it stand out from other metal detectors.
If you're just a beginner and want an easy-to-use machine, but still want to impress colleagues and veterans with a different but equally effective take on the hobby, this is the perfect machine for you. Overall, apart from the lack of a graphic target ID and some few select nuances, the X-Terra 305 is a superb machine and well worth the investment.