Minelab has done it again with the Minelab GPX 5000. With its new features, top-of-the-line functions, and unparalleled quality, it's no exaggeration to call this a serious metal detecting professional must-have.
Minelab metal detectors have long since been known to be among the top rated metal detectors available in the market and the GPX 5000 certainly only proves the credibility of the brand's reputation.
A step above its predecessor, the GPX 4500, this beautiful piece of engineering has both form and function – this sets the standard for every other professional metal detector in the market. It has an aesthetic and professionalism that matches the top features Minelab has put into the GPX 5000.
Minelab GPX 5000 Appearance
The look & feel is modern and sleek. It has a standard matte white search coil and a padded arm rest. Its dimensions measure 5.25″ x 12.25″ x 34″ and has a product weight of 5.3 lbs. It utilizes a lightweight 1.7 lbs Lithium-ion battery with inbuilt Speaker Booster capacity.
The metal detector coil that's provided is an 11″ DD standard – a total of 22″ – with a provided 15" Monoloop coil. The display, at 64 x 128 pixels, is compact but still works perfectly well despite the size. It features an LCD backlight to make it easy to read even in dimly lit settings. Included peripherals are Koss 100 ohm headphones, spare batteries, and a battery charger.
Starting it up is relatively easy. Owners of the previous Minelab 4500 will find that most of the settings of the previous model works exactly the same as with the new 5000 model. If you are completely new to professional-grade metal detectors, spending time to read the manual and testing out the machine would be advisable.
The languages available for this model are English, Spanish, Russian, & Arabic (manual only). Although there is a fair bit to learn before getting it to work optimally, learning is nonetheless straight-forward and worth it in the end. One could ask the Ballarat local who found a monster $280,000-valued gold nugget with his Minelab GPX 5000.
If the provided manuals are insufficient or you would prefer are more personal approach to learning how to use the product, various online video tutorials and written instructions – both official Minelab ones and helpful user-made ones – are readily available. The popularity and widespread use of this brand of metal detector assures you that information about it will not be difficult to find.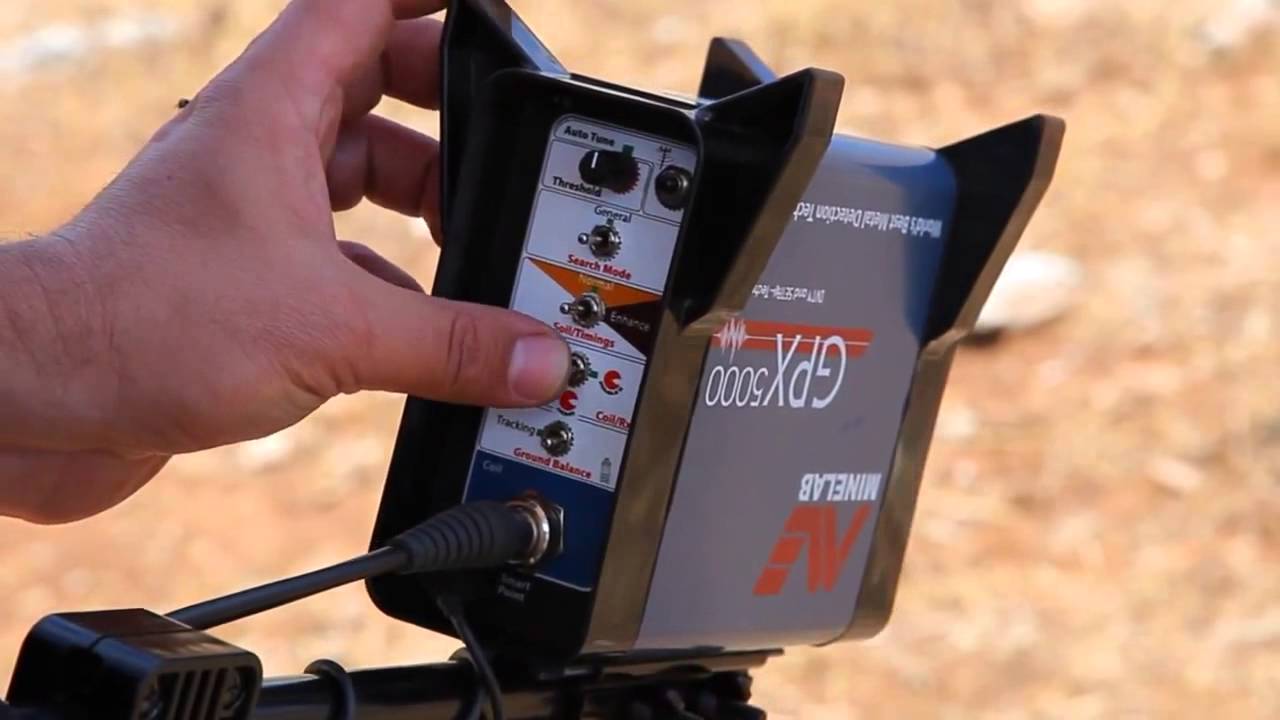 8 Enhanced Timings
The new 5000 model has 8 enhanced timings – Normal, Sensitive Extra, Enhance, Sharp, Sensitive Smooth, Coin/Relic, Salt/Gold, and Fine Gold. These timings have all been designed for absolute optimal performance with their corresponding conditions. The Enhance timing is designed for more depth. The Coin/Relic timing is made to be the deepest it has ever been for gentle ground conditions. Salt/Gold is amazing for all nugget sizes in salty ground and is perfect for beachside metal detecting. Fine Gold was made to have even more depth and sensitivity than Enhance and can pick up traces of gold even from ground thought to be completely worked out.
Various audio adjustments have also been intelligently included in the GPX 5000. Threshold, Tone, Audio Type, Signal Peak, Response, Target Volume, Volume limit, Stabilizer – these were designed to maximize target signals for your own personal convenience and preference. It also has a Low Battery audio alert.
Additionally, the Motion Control feature is adjustable to specifically match your own sweeping speed which, in turn, can readily optimize responses that you want to target.
Apart from all these, the GPX 5000 sports all of Minelab's exclusive technologies, such as Dual Voltage Technology (DVT), Multi Period Sensing (MPS), and Smart Electronic Timing Alignment (SETA).
Specifically Engineered To Find Metal & Gold
The GPX 5000 has been specifically engineered to find metal and gold much deeper than any other detector. The trademark GPX ability to see through ground mineralization gives you some serious depth advantage over other metal detectors in the market. Its sensitivity can detect gold ranging from sub-gram nuggets to the coveted "retirement nugget", as well as everything in between.
This holds true for all ground conditions, including the harshest, most severe ones. It features Automatic Ground Balance with options and variations in settings that make it easy to adjust the detector for any ground condition. It also features Iron Reject discrimination that ranges from 1 to 10 or Off (it works for all metals), adjustable enough to specifically suit iron trash levels when detecting.
Its increased Rx Gain with 1 to 20 sensitivity gives you very precision control of sensitivity. The 6 preset Search Modes – General, Deep, Hi-Mineral, Patch, Hi-Trash, and Pinpoint – gives you conveniently easy setup times and can have you start detecting almost instantly.
It is not without some faults, though. Although aesthetically pleasing, the GPX 5000 does tend to have a bit of a cumbersome weight after a few hours. Electromagnetic Interference (EMI) has also been known to affect it especially during stormy weather.
Reasons for the EMI include the wide range of the field of the Monoloop coil which reaches as high above the ground as into it; the sensitivity of the Enhance, Fine Gold, and Sharp timings that can, unfortunately, also detect EMI; and the smoothness of the detector that can more obviously detect any kinks and untoward chatter due to EMI. It is worth to note, however, that there are plenty of ways around this, such as avoiding the particularly sensitive timings mentioned, using Quiet or Normal Audio Type, and using Very Slow or Slow Motion speeds.
Video Reviews Of The Minelab GPX 5000
Final Word
Overall, this Minelab GPX 5000 review concludes that this metal detector is seriously powerful and extremely capable, with the ability to find some very nicely sized gold nuggets and various other metal relics.
The Minelab GPX 5000 is an unquestionably great product specifically targeted for enthusiasts who are serious about the craft of metal detecting. Although a bit difficult to use at first for beginners, avid treasure hunters all know how powerful this monster can be when tuned properly and utilized to its full potential. It is not entirely unfounded to confidently claim that the Minelab GPX 5000 truly is the best metal detector in the world.