The Minelab E-Trac metal detector could be described as the most innovative metal detector available on the market. The groundbreaking first-of-its-series model from Minelab is full to its proverbial brim with state of the art technology and promises to showcase features never before seen. The E-Trac is a new model and does not replace anything else; it adds to the brand's model line-up and creates a new standard in software functionality and overall performance.
Minelab Leaders In Metal Detector Technology
Minelab delivers world-class engineering and technology for hobbyists and professionals alike and for a long time, it's been known as one of the main frontrunners in the metal detector industry. Following their previous series – the iconic Explorer Series – was bound to be difficult. The models produced for that line were already quite outstanding. However, leave it to Minelab to pull off surpassing what's thought to be the epitome of quality performance.
The new Minelab E-Trac metal detector is a high-octane, state-of-the-art machine that is truly what you would call an "all-arounder". It's suitable for advanced, specialized users but also with metal-detecting novices.
E-Trac Hardware Review
The hardware setup itself is a sight to behold. The E-Trac main body sports an accompanying arm rest and strap. It has a black aluminum top stem and a black carbon fiber lower stem, really creating that sleek, stream-line aesthetic that really adds to the overall appeal of the E-Trac.
On the technical end, the machine utilizes an 11" DD Full Band Spectrum Multi-Frequency (FBS) Coil and corresponding fittings. A Koss UR30 headphone set also comes bundled with the package. As a power supply, a 1600mAH nickel–metal hydride (NiMH) rechargeable battery comes with a set, along with a suitable battery charger. It also has an alkaline battery Slim Pack.
It sports a beautiful Liquid Crystal Display (LCD) screen – a new development for Minelab – that has a viewing area of 72 mm x 48 mm and an improved resolution. This wider size means that more displayed information can be viewed to assist you in finding targets. The clearer on-screen graphics provides improved target identification and makes detecting with the E-Trac a hassle-free experience.
The ergonomic keypad layout is a new type of layout that provides ease-of-use in the form of an ergonomic single-handed access to the varied settings and technical functions of the E-Tract. Although subtle and a thoughtful little design choice, this type of layout makes it so that metal detecting enthusiasts can spend less time adjusting settings and much more time spent actually detecting.
Its ergonomic design features don't stop there, though. There's also E-Trac's new Ergonomic Handle Assembly that gives users a stable and precise feel when holding the machine. This is a design choice unique to the E-Trac. As such, it might take some time to get used to the balance and to find the right "feel". Finding your own personal comfortable position however guarantees excellent maneuverability on any sweep speed so you can keep detecting without discomfort for even longer.
On the software side, the bundle also comes with an Xchange Installation CD. The setup also includes an E-Trac to PC USB Cable connector, an Xchange instruction manual (with a soft copy included), a fold-up field guide, and a warranty card.
It is worth noting that the exact contents of the Minelab E-Trac bundle will vary by region.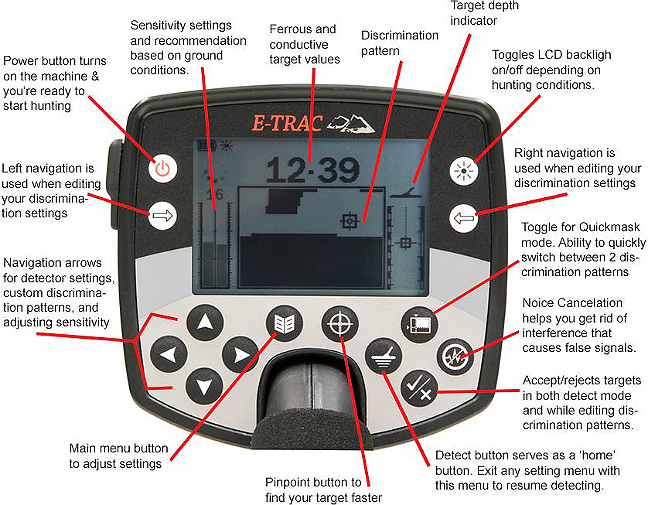 Minelab E-Trac Interface Operation
The interface of the Minelab E-Trac has a comprehensive yet concise Control Panel. On it, the E-Trac's display is logically laid out. We have the brand new Navigation Arrow buttons that control the directional movements for the functions of the machine.
Side Scrolling Arrow buttons are located to the sides of the display to control the Edit Modes. A Backlight button provides a quick toggle for the illumination of the screen when visibility is low.
The Menu button in the center of the faceplate accesses all of the E-Trac's menu choices – User Modes, Discrimination, Sensitivity, Audio, Expert, Preferences, and Master Reset. The Pinpoint button to the right of the panel takes the E-Trac out of a discrimination motion mode and into a non-discrimination, all-metal mode. This normally isn't a mode used too often but it can prove to be selectively useful during certain scenarios. The Detect button brings you back to the Pattern Screen. When already on the Pattern Screen, it switches between Detection Screen and Digital Screen.
QuickMaskTM allows real-time adjustments to Iron (Fe) and Cobalt (Co) rejection levels. Works independently of any currently working Discrimination Settings. Instant switch back to the last Detect screen. Accept/Reject button controls the instant acceptance or discrimination against any target. Noise Cancel button selects from 11 operating channels to look for the most noise-free channel. Helps detect, eliminate, and reduce electromagnetic interference (EMI) generated by atmosphere, radio mast transmitters, pylons, and generators. Takes about half a minute to cycle through the channels. Noise Cancel is also on Expert Menu.
The E-Tracs Software & Settings Features
The E-Trac Xchange is a new function that gives the Minelab E-Trac the ability to interact and communicate with personal computers. Users could use this feature to upload, download, and share detecting programs. This innovation is a huge leap forward in the personalization and optimization of your metal detector. It is also a step towards technologically advanced metal-detection software since it allows you to download and even upload Discrimination pattern programs. For you convenience, alternate patterns are available on the Minelab official website.
The Minimum System Requirements are as follows:
– Windows 2000, Windows XP, Windows Vista
– Minimum display resolution of 1024 X 768
– USB or USB 2.0 port
– USB Data Cable (included in the basic product package)
Installation is as easy as inserting the included CD into the CD/DVD drive and following prompts. After successfully configured, it's simple as opening the program on your computer, connecting the E-Trac and the PC with the USB Data Cable, and turning on the E-Trac. For assurance, try not to place the metal detector's coil next to interfering electronic devices.
Minelab E-TRAC Video Reviews
Final Word
The brand new E-Trac brings in brand new technology into the game. This Minelab E-Trac review concludes that it's an excellent all-arounder that succeeds at virtually any task. It's easy of use is also as simple as turning it on and working with Factory Settings.
However, it can also be personalized, tweaked, and programmed. This makes it ideal for metal detection enthusiasts from any stage of skill and experience, from complete newbies to specialized professionals. All-in-all, the Minelab E-Trac is high-quality, top-of-the-line technology, and undeniably the most advanced metal detector in the market today.