With the new Minelab CTX 3030, Minelab has, yet again, set a new standard for deep coin and relic ID machines. The speed of the CTX3030 is a clear improvement over its predecessor, the E-Trac. Waiting for a visual ID seems like a thing of the past seeing as there is almost no lag time compared to previous models. Great additional features also abound, such as GPS, waterproof functionality, and wireless capabilities.
Minelab CTX 3030 Appearance
The Minelab CTX 3030 is a sleek dark grey color with a little black thrown in for good measure. The Minelab metal detector logo – colored red in this model – is brandished in different parts on the machine. The shaft/stem if the machine is made of matte black carbon fiber finish. It has a full color LCD screen, as mentioned before, and a button keypad with a trigger mounted on the handle. The aesthetic of the product has a feel of precision and sleek contemporary style.
With the bundle is a standard 11" DD Waterproof Smart Coil, with its waterproof limit reaching to depths up to 3 meters. This feature makes the product all the more versatile and heavy-duty. This is the default bundle coil, however, and you are free to customize, change, and order larger variations form Minelab.
The CTX 3030 has a minimum retracted size 37 inches, and a maximum extend length of up to 55.3 inches. It weighs approximately 2.3 kg with the battery pack.
The weight of the Minelab CTX 3030 is a common issue to some – its sleek design is deceptively light-looking and might surprise those who do not expect such a weight. However, all things considered, it is not at all a burden to carry. In fact, its weight is a byproduct of the sturdiness that this particular model boasts. Minelab has also done an excellent job at making sure that the CTX 3030 is of the highest quality. The product is stable and incredibly well-balanced; most of its weight is concentrated behind its arm rest –the set location of the machine's battery pack – and so that type of design makes it easy to hold.
Initial assembly is simple, straight-forward, and easy to do.
Interface & Operation Review
The Minelab CTX 3030 is an excellent machine but has a bit of a learning curve to its operation. Users will find themselves hard-pressed trying to operate it without thoroughly understanding the instruction manual first. Its professional-level design is aimed at seasoned enthusiasts who take the craft seriously and have patience to learn how to operate the machine. Once you learn however, you won't be disappointed at the CTX 3030's full power and capabilities.
The interface of the CTX 3030 showcases functional buttons. There are a total of 11 buttons. These are: Power Button, User Button, Detect, Identify, Store, Noise Cancel, Audio, Ground Balance, Sensitivity Button, Menu, Map.
Additionally, the machine has 10 Modes. Modes 1 through 5 are as follows – Coins, Beach, Relic, Silver, and High Trash. All of the mentioned modes are readily customized to suit any specific ground conditions. Modes 6 through 10 are empty slots for your own personalization. You can add your specifications, discrimination's, and preferred settings. If you're curious about alternative modes and settings, many of these are available on internet forums and other websites, most of which were made by enthusiastic users all around the globe. The user can also adjust the different settings – Pinpoint, Pattern 1, Pattern 2, Response, Recovery Fast, Recovery Deep, Seawater, Target Separation, Tone ID Profile– in each view.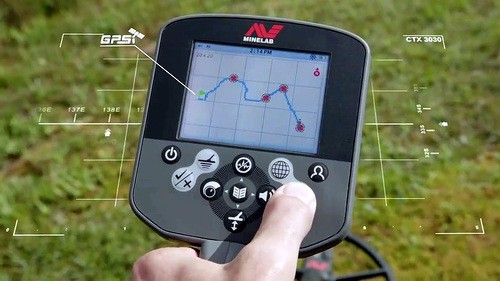 Features Of The CTX 3030
The Minelab CTX 3030 is packed to the brim with the latest features that most other mid-range detectors don't commonly include.
To start off, the model sports a full-color crisp LCD display. Its GPS also employs a tracking system dubbed the "Geostore". This allows you to store in the Minelabd CTX 3030's memory up to 100 different key locations. The new model also uses the advanced WiStream technology to provide the use of wireless audio systems. This achieves clear, crisp sound with virtually no delay. Additionally, the model also has a built-in internal speaker and provides a headphone socket for any useable headphones. The wireless module also comes with a battery that can be recharged via USB connection or by the battery charger. The model conveniently snaps on to a belt clip or can simply be stored in one's pocket.
The CTX 3030 also features a Full Band Spectrum 2 transmission (FBS2). This features combines Minelab's signature Full Band Spectrum transmission with an advanced digital Coil-Detector communication function. This results in a much more advanced analysis of signals and much more accurate detection. Moreover, the CTX 3030 does not have as much problems masking unlike most other detectors, so default discrimination should be used.
With all the settings and customizable elements, operating the Minelab CTX 3030 can be a bit overwhelming. One could get carried away with overthinking how to best customize the machine's settings. In most cases, leaving the CTX 3030 in its default factory settings is the best course of action when you are not yet confident about your mastery over the sensitivity settings. On its own, it is already very excellent at separating junk from desirable targets.
The power of this machine is quite awe-inspiring. There have even been reports of these depths reaching up to 16 inches using a 17" coil.
PROS
The CTX 3030 has a well-balanced, sturdy, and high-quality build.
It has a crisp and clear full-color LCD display.
It is waterproof for depths up to 3 meters.
With hundreds of settings, it is fully customizable and has programs readily available for download.
Its GPS feature is comprehensive and can be utilized for a variety of functions.
CONS
Although the CTX 3030 is waterproof, the included headphones are still very much prone to water damage.
Any user-edited programming can only be done via PC. That's also the only way to restore factory settings.
There is a learning curve to mastering the use of the CTX 3030.
Video Reviews Of The Minelab CTX 3030
Final Word
Minelab has once again outdone itself. The Minelab CTX 3030 is one of the best metal detectors out in the market today; you truly get what you pay for with this one. Time and patience are all that you need to get the most of this amazing machine. Once you learn how to use it to its full potential, the sky (or in this case, the ground) is the limit!
This Minelab CTX 3030 review concludes that this product is well worth the investment.