Garrett ACE 250 – Perfect for Beginners as well as Experts
If what you're looking for is an affordable, popular, and amazingly effective metal detector, deciding to go with the Garrett ACE 250 is one of the best choices you can make. It has been repeatedly reiterated that the ACE 250 passes with flying colors when it comes to the question of ease of operation, user-friendliness, accuracy, and overall functionality.
This is widely sought after by beginners and novices but plenty of veterans will readily attest to its quality as a metal detector.
Top Quality Garrett Metal Detectors
Right off the bat, the Garrett brand has consistently been one of the industry's giants, being on par with other famous brands such as Minelab, Fisher, and Bounty Hunter. Out of all these brands however, Garrett very frequently stands out as the line that has the best value to the coin.
In the product line of the Garrett Ace 250, we also have the Garrett Ace 150 – its predecessor that is just as effective hardware-wise but misses some of the functionality and features of the 250 – and the Garrett Ace 350.
The 250 is a more budget friendly alternative to the 350 at a price $100 less than its successor, with the difference being that it operates at a different frequency (6.5 kHz as opposed to the 350's 8.25 kHz) and the fact that unlike the 250, the Garrett Ace 350 uses a double D search coil.
The more recent iterations of this line, the Garrett ACE 200, 300, and 400, are revamped versions of this line and are also worth looking into.
Garrett ACE 250 Functionality
Going back to the Garrett ACE 250, the machine uses an elliptical search coil. This is not quite as precise as a double D search coil, however the search fields of elliptical coils are also noticeably more focused than detectors with circular search coils. The Garrett ACE 250 also utilizes a display screen that was designed to be much easier to read than most metal detector display screens.
In line with the stellar reputation Garrett has as a brand, it's worth mentioning that its online customer support, particularly with the Garrett ACE 250, offers step by step training videos for novice treasure hunters or even well-seasoned metal detecting enthusiasts looking to brush up on their metal detecting skills.
Garrett ACE 250 Performance and Design Review
The most apparent feature of the ACE 250 is its crisp and clear display screen. It is simple and easy to understand but is comprehensive and works extremely well. The top of the screen sports a Graphic Target ID that has bold marks that make it easy to read quickly. On the right, we have a Depth Indicator that shows numerical readings of how deep potential targets are buried. This can penetrate as far as 8 inches underground and is exceptionally accurate. Lastly, we have a unique battery indicator on display that is constantly shown as opposed to only flashing when the battery is low (like on most other models).
On the hardware side, the Garrett ACE 250 comes with a 9" elliptical search coil. Thin due to its elliptical shape, this piece of machinery is deceptively small but effective; in terms of detection range, it beats out most standard 8" coils.
The thin shape was designed such that switching between targets is quick and simple. If double D coils are more your style, switching is as simple a matter as purchasing a DD coil and swapping out the Garrett ACE 250's default elliptical coil. It should be noted, however, that the in box standard coil is more than enough for most beginners.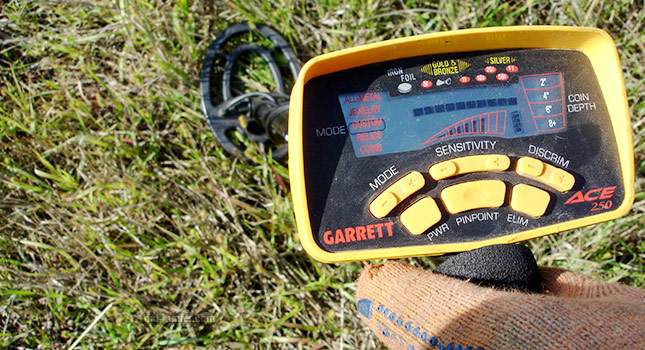 ACE 250 Unique Features
One of the main reason this particular model is still as popular and has as much staying power as it has is something most other metal detectors fail to pay attention to – the audio indicative bell tone. It has the essential three audio beep system, a standard with most metal detectors, but it adds a fourth tone that only beeps when the 250 finds something that it thinks is a coin.
This is perfect for those who are specifically looking for those kinds of treasures, the coinshooters as you may call them. The bell tone was named appropriately due to its very unique ring sound and fade out afterwards.
Apart from that, the ACE 250 has a formidable array of software settings, configurations, and functions. It comes with fully customizable notch system that gives users the freedom to dictate how the metal detector reacts to targets and metals, it has eight sensitivity levels, and has five discrimination patterns.
The one feature that the ACE 250 might find itself wanting at times is reliable ground balancing. Without this feature, metal detectors often go haywire in ground conditions that have too much mineralization.
A workaround for this is tuning the sensitivity just a tad to keep noise and false positives to a minimum. Although this might significantly effect penetration depth, it still works for most situations.
Garrett's Ease of Use and Convenience
Garrett really took into consideration the usability and convenience in using its products with the ACE 250's portable size. It is one the lightest detectors available at a measly 2.7 lbs, and it ergonomically a pleasure to hold with its comfortable armrest and machine grip. For those who might prefer the Garrett ACE 250 to be a little bigger, it also comes with an adjustable shaft so that anyone could comfortable use it regardless of height or arm length.
The Garrett ACE 250 also has a battery life that goes well over 30 hours – more than plenty of time to do field runs and find your fair share of buried trinkets and treasures.
Garrett Ace 250 Metal Detector Video Review
Final Word
To sum it all up, Garrett did a wonderful job with its ACE series. It has the perfect combination of affordability and functionality that most treasure hunters strive to find. All in all, the Garrett ACE 250 is sure to be a smart and happy purchase.