Fisher Gold Bug Pro Metal Detector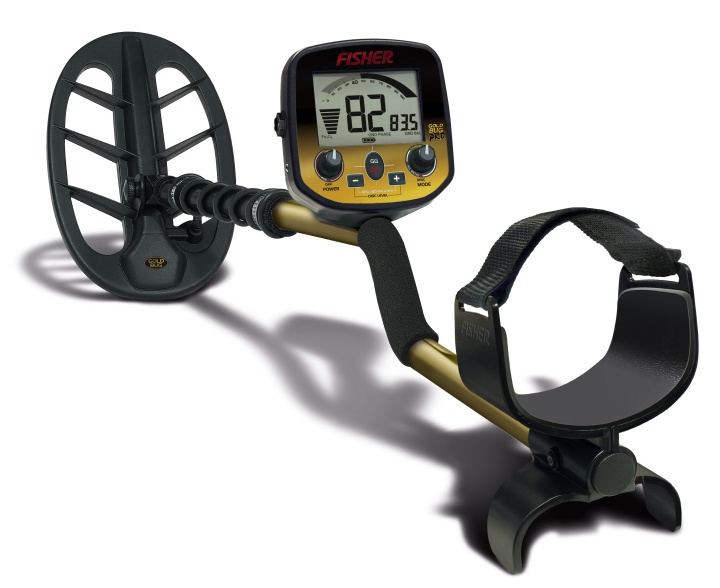 Fisher is one of several metal detecting brands through the First Texas manufacturing company. They're known for their metal detecting devices and accessories made for prospecting purposes. One of their unique products is the Fisher Gold Bug Pro.
This metal detector is equipped with the V-Break TM and uses its Computer Assisted Ground Grab to pinpoint the tiniest gold nuggets in soil types that contain some of the highest concentrations of minerals. It is one of the most versatile detectors on the market and ultra-sensitive.
The Gold Bug Pro is a step above some of the other Fisher metal detectors although not on equal footing with the Gold Bug 2, which is an additional $200.00 more than the Gold Bug Pro.
This Fisher Gold Bug Pro review will lay out more of the details and weigh the pros and cons to help you decide if this is the metal detector for you.
GB Pro Specifications
| | |
| --- | --- |
| Dimensions: | 10.2 x 6.2 x 28.5 inches |
| Weight: | 2.5 lbs |
| Headphones: | Dual Headphone Jacks |
| Users Manual: | Yes |
| Discrimination: | V.C.O. Audio in All Metal & Discrimination Mode |
| Power Source: | 1 x 9 V battery |
| Pinpointing: | Static Pinpoint with depth indicator |
| Coil: | 5″ DD waterproof searchcoil |
The Good
Lightweight
User-friendly interface
Indicates the type of mineral found
Measures the amount of a certain mineral
Provides continuous ground readouts
Easily finds the smallest gold nuggets
Works well in high mineral soils
Perfect for prospecting
Operating Frequency of 19kHz
The Not So Good
Costly investment
Only coil is waterproof
GB Pro Performance & Design Review
The Fisher Gold Bug Pro may not have the sleekest design, however, its structure has some advantages. The golden frame is just slightly bent to accommodate its welder's arm and cause as little discomfort as possible.
It is made to be toted around. It is also lightweight with a comfortable grip, which makes it perfect for prolonged detecting. Although the device only has a 5'' DD, there is an option for an 11'' DD waterproof search coil attachment.
Performance wise, the Gold Bug Pro surpasses the original Fisher Gold Bug because of its versatility when it comes to prospecting.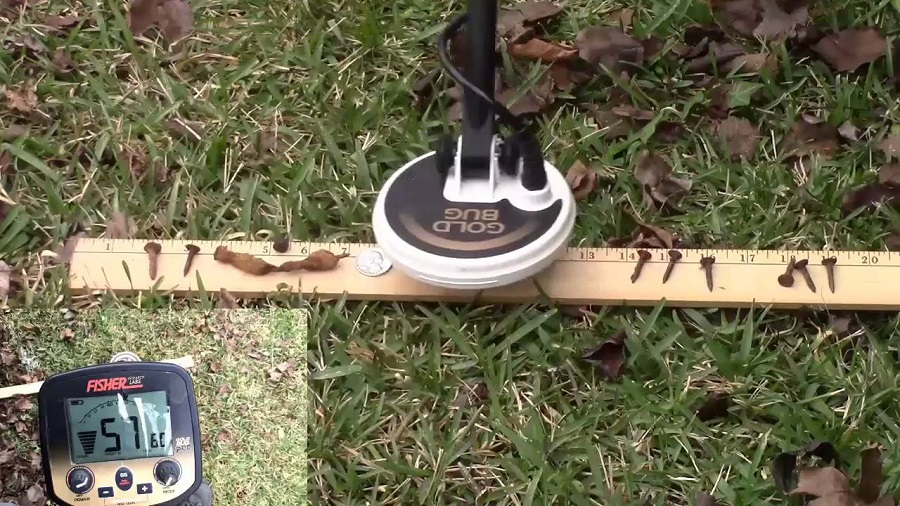 It is easy to use and read with its simple interface. It's sensitive to even the smallest gold nugget in conditions that aren't always easy to detect, like in soil with high mineralization.
However, this device isn't all that waterproof and has a finite number of areas where the search for gold nuggets can go.
But that being said, many hunters who have bought this metal detector rave about its performance and its ability to pick up coins and other metal objects hidden or buried under the dense soil.
It wouldn't be helpful underwater, but it is suited to detect along the shoreline and on the beach, as well as along tougher terrain and dense areas.
Gold Bug Pro Hardware Overview
The Gold Bug Pro weighs a measly 2.5lbs, meaning it is incredibly lightweight. It only takes one 9-volt battery and has a 5year limited warranty through Fisher. It doesn't include headphones however it does have dual headphone jacks. Headphones would have to be bought separately. The interface gives clear and concise readings on the amount of mineralization around.
Video Reviews
Final Word
As this Gold Bug Pro review has shown, this is a device that is simple enough for a novice yet with enough features and sensitivity for the more experienced treasure hunter. It's a great intermediate item that can be used in easy metal detecting areas like beaches or in detecting on tougher soil areas where gold nuggets are usually found.
The design is simple and easy on the arm, which makes it perfect for prolonged use. It has an easy to use interface coupled with a simple design, which makes it perfect for anyone just starting out. Its light weight and sensitivity to the tiniest of metals and gold make it ideal for a serious prospector.
However, the drawbacks to this metal detector can't be ignored. Its inability to function underwater limits where this metal detector can be used. So, if you're a deep-sea treasure hunter, this isn't the brand for you. However, if you're sticking to dry land and you're looking for gold in some unconventional places, then the Gold Bug Pro is just right. Its ability to detect gold in some highly mineralized areas means that even if you're in a cave on the mountainside, the Gold Bug Pro will be able to pick up some metal and gold in the area.
Another drawback is the price. Though its price isn't as expensive as some heavy-duty models equipped for professional treasure hunters, the Gold Bug Pro is still a little pricier than a true beginner model.
However, the additional features you are introduced to are well worth the markup and some might even say the price of this metal detector is reasonable compared to others on the market.
Looking through some of the Gold Bug pro review posts from customers sheds some insight on how it functions from regular use.
Many have given this metal detector either 5 or 4 stars. And the 4 stars were given because of the lack of an arm strap. Others simply love the device and have a lot of fun using it.
So, ultimately, Fisher Gold Bug Pro is a great buy if you're done with the beginner's stage of metal detecting and want to move up to a product that is a lot more sensitive to metals and gold nuggets.
It's not as high-tech as some more expensive models, but it is more user-friendly than other products on the market and offers all its features at a reasonable price.
As always GL & HH