Fisher F22 Metal Detector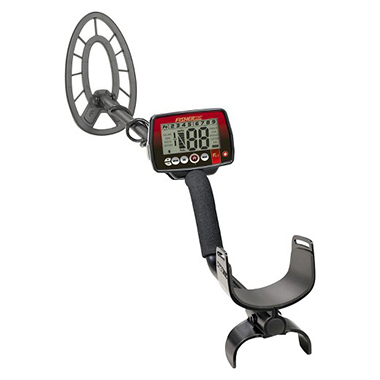 The Fisher F22 metal detector is a great entry level machine. It's easy to set up, easy to use, built to last and the perfect machine for anyone looking to start off a fun hobby of metal detecting
It features 4 modes of operation artefact, jewellery, coin and custom, which allows you to program the machine to match the type of metal you are hunting.
At just $230 the F22 is a powerful, reliable all-rounder which can handle most terrains. It's light in weight at just 3 pounds, provides good depth and fast recovery speed.
If you are looking to get into metal detecting we honestly couldn't recommend a better entry level machine.
We love the F22's predecessor the Fisher F2 and can honestly say the F22 is even better, featuring several improvements and enhancements.
As with all our reviews we aim to be impartial and also put every machine through its paces, so without further ado let's jump straight into this Fisher F22 metal detector review.
F22 Specifications
| | |
| --- | --- |
| Dimensions: | 22 x 8 x 5 inches |
| Weight: | 3 pounds |
| Waterproof: | Coil can be submerged |
| Users manual: | Yes |
| Targeting depth: | Coins at 9 inches |
| Coil: | Elliptical Waterproof |
| Power source: | 2 AA betteries |
The Good
Quick & Easy Set up
Lightweight
Features professional-grade weatherproofing for use in the toughest conditions
5-year warranty for peace of mind
Excellent VDI Readout, which makes it very easy to determine what your targeting
Sturdy, built to last
Accurate depth gauge
Excellent battery life 25 – 30 hours
Multiple clear alert tones, handy for those that don't want to have their eyes fixed to a screen for long periods of time
Good recovery speed
The Not So Good
Depth indicator readout often inaccurate
False signals when hunting in early morning dew, wetter conditions
Battery box cap flimsy
Fisher F22 Features Review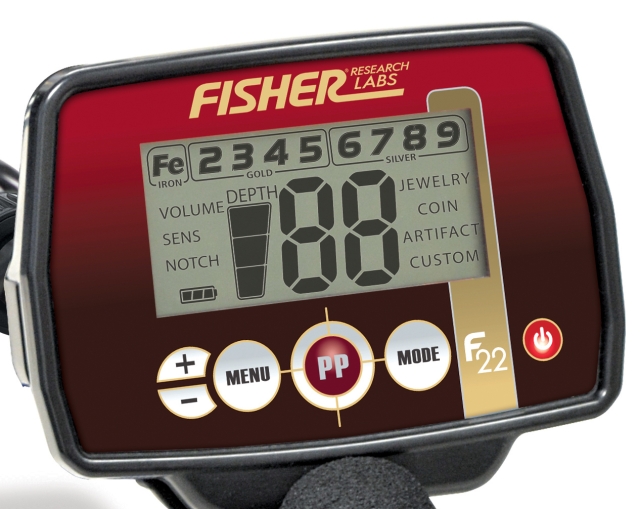 The F22's depth indicator features a 3-bar readout that indicates the target is buried shallow, medium or deep.
It's easy to follow and via much testing we found it to be pretty accurate for a $200 machine. 1 bar indicates an item is buried 0 – 4 inches, 2 bars 4 – 9 and 3 bars deeper than 9 inches.
It has 10 adjustable sensitivity levels and four modes of operation coin, artefact, jewellery and custom, which are perfect for beginners.
The 9-segment target ID is easy to read and will help you separate the junk from the bling, while the four tone alert provides a pretty accurate identification of what you are targeting without the need to even look at the screen.
Weatherproof?
It's important to firstly understand the Fisher F22 is not a waterproof or underwater detector. While the standard elliptical search coil can be submerged, the unit itself should always be 12 inches clear of the electronics box.
While this metal detector is advertised as adverse to weather conditions due to its "professional grade weatherproofing" we found it struggled to cope with rainy and damp conditions. On two occasions, the F22 froze altogether in drizzly conditions and on others we noticed it started behaving nervously in the wet.
F22 Coil Thoughts
The F22 saw Fisher introduce a new search coil with the machine. We were very impressed with the 9" triangulated elliptical search coil, finding it excellent at discriminating targets and designed perfectly to sweep narrow spaces in between rocks etc.
For a metal detector sold within the $200 price bracket, it was also very nice to have the option of submersing the coil in shallow water.
Fisher F22 vs F2
We enjoyed testing the F2 and also found it to be a good entry level machine. However, those that made the purchase just before the F22 was released will be kicking themselves. The F22 not only features all of the good from the F2, but some other significant improvements.
For a start you are able to save your configuration set up on the F22, unlike the F2 where your often perfect set up would be erased! The coil mentioned above is also a vast improvement to the standard 9" on the F2. Improved circuitry which equates to faster processing and recovery is also clearly evident. To summarize Fisher metal detectors designed the F22 is an upgrade to the F2 which has undoubtedly been achieved.
F22 Video Instructional & Reviews
Top Tip
Invest in the very best pinpointer detector that your budget will allow. Recovery time will dramatically speed up and your whole experience hunting will be enhanced.
Final Word
We hope you enjoyed our review of the Fisher F22 metal detector and are closer to making a decision as to whether or not to make the purchase. It really is an excellent entry level detector, which is reliable, accurate and will provide many fun days out hunting.
While we weren't particularly impressed with its capabilities to work in wet weather its important to note that the problems we encountered happened only part of the time. It's also possible the machine we were testing had a slight defect, which can happen and something Fisher will be happy to help with.
Please leave your comments, questions and thoughts below and as always, GL & HH!